Kawasaki to be First Japanese Motorcycle Manufacturer to Include Bosch's Advanced Rider Assistance Systems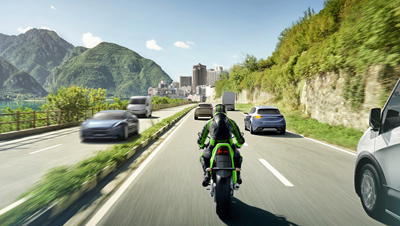 (Provided by Bosch)
Tokyo, November 5, 2019—Kawasaki Heavy Industries, Ltd. announced today that the advanced rider assistance systems developed by Bosch Corporation (hereinafter referred to as Bosch) are, in a first for a Japanese motorcycle manufacturer, to be included in a part of Kawasaki motorcycle lineup starting in 2021.
Bosch's advanced rider assistance systems are composed of three elements: ACC (adaptive cruise control), forward collision warning and blind spot detection. These systems feature technology based on the ADAS (advanced driver assistance systems) technology used in automobiles. The underlying technology in this cutting-edge system is Bosch's radar sensor, brake system, engine management system and HMI (human machine interface), which all work together to boost rider awareness of their surroundings, contributing to increased comfort and rider reassurance.
Kawasaki has strived toward the goal of being "Fun and Rewarding to Control" through the development and use of rider support systems such as KTRC (Kawasaki TRaction Control) and KIBS (Kawasaki Intelligent anti-lock Brake System). With the adoption of this Bosch system, the aim is to offer even more riders the ability to enjoy Kawasaki motorcycles.
Geoff Liersch, President of the Bosch Two-Wheeler & Powersports Business Unit says, "Bosch continues to make riding safer, more efficient and fun around the world, and we are honored to supply Kawasaki with our systems"
Yuji Horiuchi, President of the Motorcycle & Engine Company in Kawasaki Heavy Industries, Ltd., says, "We are glad to announce that our motorcycles will be equipped with Bosch's advanced rider assistance systems, which offer greater rider reassurance. With the support of these systems, we are confident that Kawasaki can offer "Fun and Rewarding to Control" to even more riders."
Advanced Rider Assistance Systems features
ACC (adaptive cruise control)
Riding in heavy traffic and maintaining the correct following distance to the car in front takes a great deal of concentration and can be strenuous for the rider. ACC adjusts the vehicle speed to maintain the necessary safe following distance from the vehicle in front. ACC monitors the distance to the vehicle in front and decelerates when the following distance is deemed insufficient; when more space becomes available, ACC accelerate the vehicle to return to the set cruising speed.
Forward collision warning
Bosch has developed a collision warning function to alert riders of quickly approaching vehicles in front. If the system detects that another vehicle is dangerously close and the rider does not react to the situation, it warns the rider by way of an acoustic or optical signal.
Blind-spot detection
A radar sensor monitors the motorcycle's surroundings and assists the rider in changing lanes. The system checks if there are any objects in areas that are typically difficult for the rider to see, and whenever there is a vehicle in the rider's blind spot, the technology warns them by way of an optical signal – for example, in the rear-view mirror.
Contact