The Kawasaki Report 2019 Issued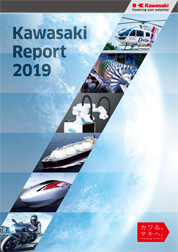 Kawasaki Heavy Industries, Ltd. has issued the Kawasaki Report 2019(integrated report)

.
The report highlights our business environment and strategies of the new medium-term business plan MTBP 2019, as well as social value created through businesses and our initiatives to achieve the SDGs.
For further details pertaining to our IR

and sustainability

information, please visit each page.
Kawasaki hopes this report will serve as a basis for dialog with its stakeholders, drawing out input regarding their expectations and requests for Kawasaki's corporate activities.
We will continue our effort to improve our disclosure quality.
Contact