Kawasaki Exhibiting 12 Models at Tokyo Motor Show Including Z H2, Ninja ZX-25R, W800, and Other New Models Along With Suzuka 8 Hour Race Machine
Tokyo, October 23, 2019—Kawasaki Heavy Industries, Ltd. announced today that at the 46th Tokyo Motor Show 2019, 12 models will be exhibited, including three world-premiere models (the Z H2, Ninja ZX-25R, and W800), and the Ninja ZX-10RR race machine that proved victorious at this year's Suzuka 8 Hour Endurance Road Race. The Tokyo Motor Show is being held at the Tokyo Big Site and neighboring Odaiba area, and will be open to the public for 11 days from October 25.
Overview of World-Premiere Models
Z H2 (Reference Model)
The new Z H2 proudly takes its place as the flagship of Kawasaki's Z Supernaked series. Offering high power and intense acceleration, complemented by everyday versatility and superb fuel economy, the 998 cm3 liquid-cooled 4-stroke In-Line Four Balanced Supercharged Engine features engine settings specific to the Z H2 to ensure smooth acceleration at low-mid rpm. Its chassis, featuring an all-new trellis frame and advanced SFF-BP*1 front suspension, delivers the nimble handling of a Z Supernaked, while ensuring the high rigidity needed to harness the power of the supercharged engine. While it features sugomi styling*2 like that of other Z Supernaked models, its asymmetrical supercharger intake duct and frame-mounted headlight design create a distinct impression. Further enhancing the experience, advanced electronics like integrated Riding Modes*3 and other rider support systems are complemented by full-color TFT instrumentation and smartphone connectivity.
Ninja ZX-25R (Reference Model)
Introducing the Ninja ZX-25R, an all-new 250cc supersport model powered by a brand new In-Line Four engine – the only one in its class as of October 2019. The smooth-revving 249 cm3 liquid-cooled DOHC 16-valve In-Line Four offers both robust low-mid range torque and strong high-rpm power. Careful intake and exhaust tuning of the high-revving engine ensures that every twist of the throttle rewards riders with the characteristic exhaust note of a Kawasaki In-Line Four. Racing feedback from Kawasaki's championship-winning World Superbike*4 effort brings WSBK chassis design thinking to the 250cc class. The all-new trellis frame, designed using Kawasaki's advanced dynamic rigidity analysis, is complemented by high-grade SFF-BP front suspension – a 250cc class first – radial-mount monobloc caliper and Horizontal Back-link rear suspension, delivering superb supersport-style cornering performance when sport riding. Electronic rider support features like KTRC (Kawasaki TRaction Control), Power Mode selection and KQS (Kawasaki Quick Shifter) are also equipped, completing a package that offers riding exhilaration worthy of the Ninja ZX name.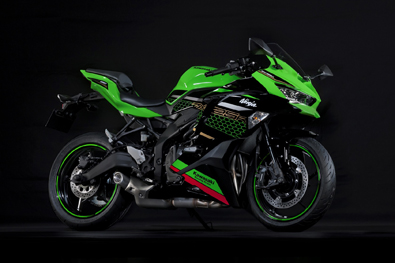 W800
The new W800 is a retro model with strong links to Kawasaki's original big bike, the 1966 650-W1, the first model of the W brand, and the machine that first gained Kawasaki recognition as a manufacturer of large-displacement motorcycles. Like the W800 STREET and W800 CAFE released last year, the W800 offers easy handling and a high level of craftsmanship. But of the three models, it is the truest to the looks and feel of the original W. Its silver engine design and numerous chromed steel parts strengthen its resemblance to the 650-W1, while contributing to its classic, high-quality looks. The rich pulse and hearty roar of its Vertical Twin engine, and the unhurried steering that comes courtesy of its 19"/18" wheels offer pure riding enjoyment.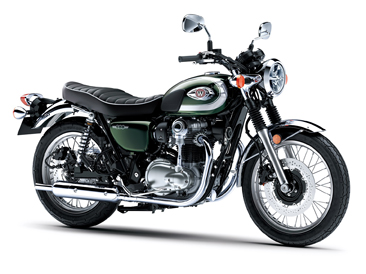 In addition to the three world-premiere models, other models on display at the Kawasaki Booth include the TERYX KRX 1000 and Ninja 650 as well as the Ninja ZX-10RR race machine that the Kawasaki Racing Team took to Kawasaki's first victory in 26 years in the 2019 Suzuka 8 Hours Endurance Road Race; the 650-W1, Kawasaki's first 4-stroke machine; and its predecessor, the Kawasaki 500 Meguro K2.
Also on display are the re-produced cylinder heads for Kawasaki's legendary Z1/Z2. Advanced order taking is planned for December 2019.
Finally, at the FUTURE EXPO exhibit at the MEGA WEB space, where visitors have a chance to experience the Japan of the Near Future, two examples of the hydrogen supply chain//Hydrogen Road that Kawasaki Heavy Industries, Ltd. is currently developing are being displayed. One is a diorama of the hydrogen energy international supply chain; the other is VR (virtual reality) corner where visitors can experience the liquid-hydrogen storage center currently under construction in Kobe .
| | |
| --- | --- |
| *1 | SFF-BP: Separate Function Fork – Big Piston. |
| *2 | Sugomi styling describes core design elements found in Kawasaki's Z Supernaked models. It is evident in their sharp styling, dynamic crouching form, and distinct silhouette. |
| *3 | All-inclusive modes that link KTRC (Kawasaki TRaction Control) and Power Mode, allowing riders to easily set traction control and power delivery to suit a given riding situation. |
| *4 | Superbike World Championship is the pinnacle motorsport road racing series for production-based models, recognized by the FIM (Fédération Internationale de Motocyclisme). |
12 Display Models
| | |
| --- | --- |
| ① | Z H2 (World Premiere) |
| ② | W800 (World Premiere) |
| ③ | Ninja ZX-25R (World Premiere) |
| ④ | TERYX KRX 1000 |
| ⑤ | Ninja 650 |
| ⑥ | Ninja H2 CARBON |
| ⑦ | Ninja ZX-14R |
| ⑧ | Z900RS |
| ⑨ | KLX230 |
| ⑩ | Ninja ZX-10RR (Suzuka 8 Hour-winning machine) |
| ⑪ | 650-W1 (Historic Model) |
| ⑫ | Kawasaki 500 Meguro K2 (Historic Model) |
Contact