Kawasaki Completes Waste Treatment Center Facilities for Takatsuki City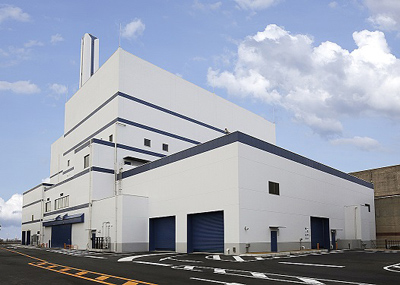 Tokyo, March 18, 2019 — Kawasaki Heavy Industries, Ltd. announced today that it has completed new facilities for the Takatsuki Clean Center in Takatsuki City, Osaka Prefecture. Kawasaki previously built the Clean Center's Plant No. 2, which was completed in 1995 and is currently operational.
The new facilities were built inside an existing complex on the bank of the Yodo River, and were planned based on Takatsuki City's goals of achieving a waste treatment center that offers both safety and peace of mind, has minimal environmental impact, and puts minimal financial burden on the city. Furthermore, they were designed with consideration to the overall appearance in pursuit of greater harmony with the surrounding area.
The new facilities consist of a waste incineration facility capable of treating 150 tons of waste per day (24 hours) using a single incinerator, as well as a pre-processing facility capable of crushing and sorting waste at a rate of 24 tons every 5 hours. They were constructed through a joint venture between Kawasaki and Nishimatsu Construction Co., Ltd. Built next to existing facilities within the Clean Center, the new facilities use only one incinerator, enabling a compact overall design. Furthermore, Kawasaki followed the design concepts of the already-operational Plant No. 2, using identical equipment and parts wherever possible in order to ensure integrated operations of the two plants.
The new incineration facility uses the Kawasaki Advanced Stoker System, a proprietary Kawasaki stoker incinerator, which comes equipped with Smart-ACC®* (Smart Automatic Combustion Control) technology and is capable of burning waste completely with small amounts of air. The facility also includes a flue gas processing system that recirculates flue gases to reduce overall exhaust volumes, a bag filter, flue gas scrubbing equipment and catalytic denitrification equipment to achieve sophisticated flue gas processing. Together these realize environmentally friendly operations that reduce emissions to a level far below nationally stipulated standards. Moreover, the incinerator combines a high-temperature, high-pressure boiler and extraction condensing steam turbine for electric power generation at a maximum output of 4,300 kW, which supplies all the electricity the facility needs along with surplus power left over to sell.
Boasting a wide range of waste treatment technologies in addition to the stoker incinerator included in this latest order, Kawasaki has been involved in the construction and operation of about 350 municipal solid waste treatment facilities in total. The company will continue to develop innovations and deliver products in response to increasingly diverse environmental problems and societal needs.
| | |
| --- | --- |
| * | Smart Automatic Combustion Control: proprietary, sophisticated combustion control technology by Kawasaki, designed to achieve more efficient and reliable power generation than conventional waste treatment facilities. Enables adjustment of generation output at a scale roughly double that of conventional systems (over the same time period), facilitating response more closely tailored to power supply demand. |
Waste Treatment Facility Construction Project
Client
Takatsuki City, Osaka Prefecture
Contractor
Joint venture between Kawasaki Heavy Industries, Ltd. and Nishimatsu Construction Co., Ltd.
Project name
Takatsuki City Waste Treatment Facility Construction Project
Location
3-8-1 Maeshima, Takatsuki City, Osaka Prefecture (inside the Takatsuki Clean Center)
Facilities

(1) Waste incineration: stoker incinerator, 150 t/day (150 t / 24 hours × 1 incinerator)

(2) Waste pre-processing: high-speed rotary crusher, 24 t / 5 hours
Contact