No. 2 Dock Completed at DACKS in China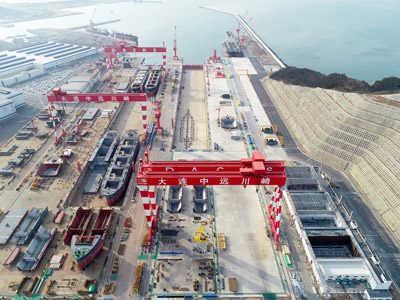 Tokyo, March 1, 2019 — Kawasaki Heavy Industries, Ltd. announced today the recent completion of the No. 2 Dock at Dalian COSCO KHI Ship Engineering Co., Ltd. (DACKS) in Dalian City, Liaoning Province, China, and the start today on construction of the first ship at this new dock. DACKS is jointly operated by Kawasaki and China COSCO Shipping Corporation Limited (China COSCO Shipping), and the ship being built is a 61,000 DWT bulk carrier to be delivered to China's CMB Financial Leasing Co., Ltd.
This recently completed dock has been in planning since the founding of DACKS in 2007, and it was built to enable greater growth.
The No. 2 Dock has a length of 550 meters and width of 68 meters, and it is equipped with four cranes including two 800-ton gantry cranes. With its dual-dock configuration, DACKS is now able to more efficiently build large-size merchant vessels.
Moving forward, Kawasaki will further strengthen collaborative efforts with DACKS and Nantong COSCO KHI Ship Engineering Co., Ltd. (NACKS), two of its joint-venture companies in China, to realize combined operations entailing joint purchasing and allotment of building operations. In these ways, Kawasaki hopes to boost the competitive strength of its merchant vessel operations at Sakaide Works and other locations group-wide while meeting demand for the construction of diverse ships from around the world.
Overview of Dalian COSCO KHI Ship Engineering Co., Ltd.
(1) Location
Dalian City, Liaoning Province, China
(2) Representative
Chairman Han Chengmin
(3) Establishment
July 18, 2007
(4) Capital
RMB 2.62 billion
(5) Capitalization
COSCO Shipbuilding Industry Company: 36%
Kawasaki Heavy Industries, Ltd.: 34%
Nantong COSCO KHI Ship Engineering Co., Ltd. (NACKS): 30%
(NACKS is a 50-50 joint venture between COSCO Shipbuilding Industry and Kawasaki)
(6) Business activities
Design, construction, sales and maintenance of various types of marine vessels
Contact