Kawasaki Produces Five-Thousandth Locomotive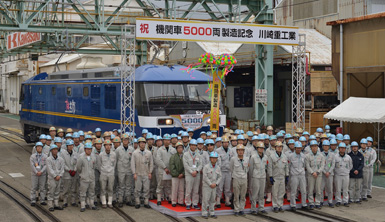 Tokyo, December 20, 2018 — Kawasaki Heavy Industries, Ltd. announced today the completion of its 5,000th locomotive, and commemorated this achievement with a celebratory ceremony at Hyogo Works. The 5,000th unit produced was an EF210 electric locomotive built for the Japan Freight Railway Company (JR Freight). The EF210 is JR Freight's primary locomotive for major railway lines such as the Tokaido and Sanyo Lines, and Kawasaki has worked in cooperation with the Mitsubishi Electric Corporation to manufacture more than 100 EF210s to date.
Over 110 years have passed since Hyogo Works' establishment in 1906, and the facility has produced more than 90,000 railway vehicles since that time. Its first locomotive, delivered in 1911 to the Ministry of Railways, was a Type 6700 steam locomotive. Hyogo Works also produced Japan's first diesel-electric locomotive, the DD10, and has provided AC electric towing locomotives for use by the Panama Canal Authority, JR Freight DF200 diesel-electric locomotives used primarily on freight services in Hokkaido, and other locomotives to numerous customers both in Japan and abroad.
In recent years, various social challenges, including environmental concerns and a shortage of truck drivers, have been accelerating a modal shift in freight transport. Based on advanced technological capabilities and highly reliable products and services, Kawasaki will continue to provide trains, an environmentally friendly mode of transportation, to customers around the world.
Contact