Kawasaki Completes One-Thousandth Rexpeller Azimuth Thruster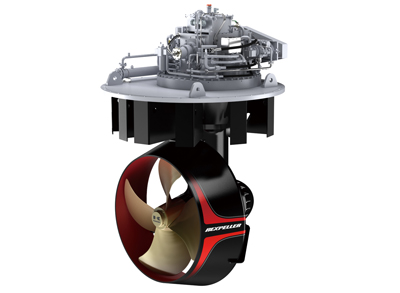 Tokyo, December 13, 2018 — Kawasaki Heavy Industries, Ltd. announced today that it has completed production of its 1,000th Rexpeller, a type of azimuth thruster for ships.
The Kawasaki Rexpeller can be freely rotated 360 degrees horizontally to generate thrust in any direction and thus functions as a propulsor and rudder. Thanks to the excellent maneuverability it provides, the Rexpeller is often used on tugboats, supply boats, special-purpose workboats, research vessels, drill ships, shuttle tankers and other such vessels.
Kawasaki began development of the Rexpeller in 1975 and started manufacturing it at Kobe Works in 1983. Thereafter, it expanded its lineup of Rexpeller products in response to growing market demand and now produces 11 standard types (410–4,500 kW), 4 underwater mounting types (3,800–6,500 kW) and 5 retractable types (590–3,000 kW). In January 2013, Kawasaki opened a dedicated Rexpeller plant inside Harima Works to bolster production capacity. In 2018, the company completed development of and received its first order for the brand-new KST-E model (standard type), which offers excellent energy savings through improvements to propulsive performance, easier onboard maintenance, and outstanding environmental performance.
Moving forward, the company will continue making contributions to maritime shipping and other marine industries worldwide through development and production of economical, highly reliable Kawasaki Rexpellers, with all efforts tailored to customers' wide-ranging and diverse needs.
Overview of the Kawasaki Rexpeller (Cumulative Production Total: 1,000 Units)
Applicable vessels
Tugboats
Model
KST-180ZF/A1 (standard type)
Input power
1,471kW
Propeller diameter
2.2m
Contact