Kawasaki to Build, Manage and Operate Chita-nambu Region Environmental Association Waste Treatment Facility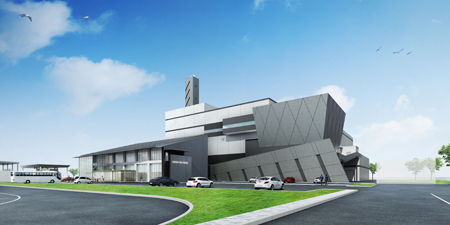 Tokyo, November 12, 2018 — Kawasaki Heavy Industries, Ltd. announced today that it has been awarded a contract by the Chita-nambu Region Environmental Association for a project covering the construction, management and operation of a waste treatment facility. This will be a DBO (design-build-operate) project in which Kawasaki will design and build a facility to handle waste treatment and processing of non-combustible and bulky waste, and operate the facility for 20 years.
The treatment center will be capable of treating 283 tons of waste per day using two incinerators, each with a capacity of 141.5 tons each 24 hours. Incineration facilities will come equipped with leading-edge Smart-ACC®* technology and use Kawasaki's proprietary parallel-flow incinerator configuration. Each of the incinerators will combine high-temperature, high-pressure boilers and extraction condensing steam turbines for high-efficiency electric power generation. By combining the use of bag filters, non-catalytic denitrification and other approaches as part of an advanced flue gas processing system with a system for recirculating flue gas, the facility will achieve reduced emissions of hazardous substances such as dioxins, nitrogen oxide (NOx) and carbon monoxide, as well as carbon dioxide and other exhaust gases in general. Moreover, by supplying heat to nearby facilities, this treatment center will realize high energy recovery efficiency.
Design and construction of the facility will be carried out by a Kawasaki-led joint venture that includes Tokura Corporation, Hichibangumi Corporation and Daishin Co., Ltd. Operation of the treatment center will be handled by the special-purpose corporation Green Park Chita-nambu Co., Ltd. (funded by Kawasaki, Kawasaki Environmental Plant Engineering Co., Ltd., and the abovementioned three companies) and Chita Environmental Preservation Center Co., Ltd., which will be responsible for transport from transfer facilities.
Boasting a wide range of waste treatment technologies including stoker-type incinerators, Kawasaki has been involved in the construction and operation of about 350 municipal solid waste treatment facilities throughout Japan. The company will continue to develop innovations and deliver products in response to increasingly diverse environmental problems and societal needs.
*

Smart Automatic Combustion Control: proprietary, sophisticated combustion control technology by Kawasaki, designed to achieve more efficient and reliable power generation than conventional waste treatment facilities. Enables adjustment of generation output at a scale roughly double that of conventional systems (over the same time period), facilitating response more closely tailored to power supply demand.
Waste Treatment Facility Construction, Management and Operation Project
Construction Project
Client
Chita-nambu Region Environmental Association
Contractors
Joint venture between Kawasaki, Tokura, Hichibangumi and Daishin for the project
Construction site
Aza 1-go, Taketoyo-cho, Chita-gun, Aichi Prefecture
Facilities

(1) Waste incineration: stoker-type incinerators, 283 tons/day (141.5 tons / 24 hours × 2 incinerators)

(2) Waste-heat utilization: steam turbine generator, 6,520 kW × 1 unit

Scheduled completion date
March 31, 2022
Contract sum
19,032,840,000 yen (including consumption tax)
Facility Operation
Client
Chita-nambu Region Environmental Association
Contractor
Management and operation: Green Park Chita-nambu Co., Ltd. (comprising Kawasaki, Kawasaki Environmental Plant Engineering, Tokura, Hichibangumi and Daishin)
Transport from transfer facilities: Chita Environment Preservation Center Co., Ltd. (partner company)
Contract period
April 1, 2022 to March 31, 2042 (20 years)
Contract sum
10,500,516,000 yen (including consumption tax)
Contact