Kawasaki Offers a New Kind of Off-Road Fun with the Launch of the TERYX KRX 1000 Trail Adventure Side x Side for North America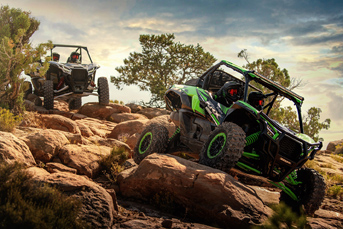 Tokyo, October 8, 2019—Kawasaki Heavy Industries, Ltd. announced today the launch of the 2020 TERYX KRX 1000, a fun new trail adventure model, into North America's growing Sport Side x Side market. Sales in the United States and Canada will commence in early October 2019.
In recent years, the demand for Sport Side x Side models has been growing, especially in North America, and continued growth in this market is expected. Complementing existing recreation-focused TERYX Series models, Kawasaki's newest Side x Side, the TERYX KRX 1000, is a trail adventure model designed for sporty off-road riding in the woods and on rock trails. In addition to toughness, durability and reliability inherited from the TERYX Series, its newly designed engine and frame offer superb capability and superior comfort.
The 999 cm3 liquid-cooled, 4-stroke, DOHC 8-valve Parallel Twin engine delivers strong power and torque, and is paired with a CVT (Continuously Variable Transmission) and centrifugal clutch to realize excellent controllability.
The chassis features a frame that integrates the ROPS (Rollover Protection Structure) to achieve high rigidity. The suspension's high-performance shock absorber units and long suspension arms offer superb ground-following performance and off-road capability.
Further, a roomy cabin with tall doors and high-backed bucket seats contributes to ride comfort.
1. Main features
(1) Engine
1.
Compact new rear-mounted engine
Clever layout for the balancer shaft and water pump contributes to the engine's compact size. Further, the engine's rear-mounted position enables a roomier cabin, and helps to reduce engine heat and noise transmitted to the cabin.
2.
CVT and centrifugal clutch
Complementing the new engine's high power and high torque, the CVT and centrifugal clutch offer smooth power delivery, which facilitates precise throttle control at very slow speeds when navigating rock crawls or other tricky terrain. Additionally, stable engine braking offers reassuring support when descending steep inclines.
3.
Power Mode selection
A choice of Full Power or Low Power modes allows drivers to set power delivery to suit preference and conditions.
4.
Selectable 2WD/4WD and front differential lock
Electrically selectable 2WD/4WD and front differential lock allows drivers to switch between drive systems and engage/disengage the front differential gear to suit changing terrain and applications, even while moving.
(2) Chassis
1.
Highly rigid frame with integrated ROPS
Designed using our advanced dynamic rigidity analysis, the frame incorporates the ROPS as a stressed member. This design helps to dissipate stress, contributing to an optimal rigidity balance and high durability.
2.
Chassis designed for off-roading
The combination of a long wheelbase, wide tread, and large caster angle contributes to excellent off-road capability, straight-line stability, and comfort. The angled shape of the underbody and ample ground clearance helps reduce the chance of scraping the ground or striking obstacles.
3.
Long-stroke suspension & large-diameter tires
The suspension features high-performance shock absorber units and long suspension arms, delivering superb damping performance and large wheel travel to easily overcome obstacles. 15" aluminum wheels are fitted with tough 31" tires that offer excellent puncture resistance, further elevating off-road capability.
4.
Built to last for high reliability
Engine and chassis components were all subjected to our strict testing for strength and durability. The undercarriage is covered by highly durable skid plates, with key components shielded by steel pieces, offering further protection.
(3) Design & equipment
1.
Imposing styling
A tough, aggressive front end, wide stance, and sleek bodywork that flows from the front to the rear create a stylish design. High fenders emphasize the long-stroke suspension, more than hinting at the TERYX KRX 1000's off-road capabilities, and highlighting the functional beauty of the wheels and suspension.
2.
Ergonomic seats designed for support and comfort
High-backed bucket seats are equipped. The wide, long bottom cushion was shaped to offer hip support, helping to reduce fatigue on long rides. The sculpted backrest offers both comfort and support during hard riding. The seat position and steering wheel angle can be adjusted to suit the driver's preference.
3.
Doors
Standard doors open wide, and feature armrests for additional comfort.
4.
Ample accessories
With almost 50 items available, the wide range of accessories offers numerous customization options for enhanced convenience or to suit preference.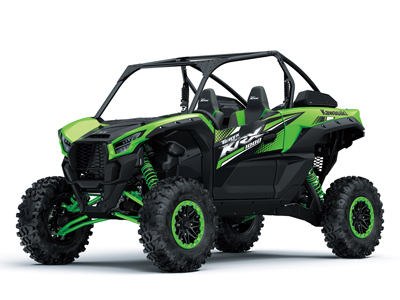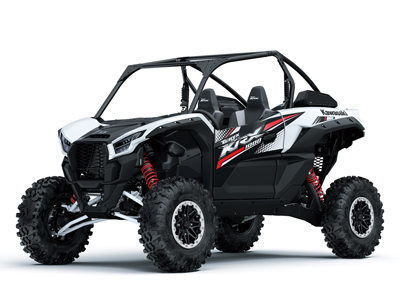 Product name
TERYX KRX 1000
Launch date
Early in October, 2019
Region of release
United States, Canada
Colors
Lime Green / Metallic Onyx Black
Metallic Moondust White / Metallic Onyx Black
2. Main specifications
Product name
TERYX KRX 1000
Model
KRF1000ALF
Length × width × height
3,305 mm × 1,730 mm × 1,905 mm
Wheelbase
2,510 mm
Min. ground clearance
365 mm
Seat height
805 mm
Caster/trail
10°/65 mm
Engine type/valve system
Liquid-cooled 4-stroke, 2-cylinder/DOHC 4 valves per cylinder
Total displacement
999 cm3
Bore x stroke
92.0 × 75.1 mm
Compression ratio
11.5:1
Starting system
Electric starter
Ignition system
Battery & coil (transistor ignition)
Lubrication system
Wet sump
Engine oil capacity
3.6 L
Fuel supply system
Fuel injection
Transmission type
CVT
Gear ratios
Fwd (high)
4.504 (32/30 × 38/18 × 32/16)
Fwd (low)
8.867 (42/20 × 38/18 × 32/16)
Reverse
6.756 (32/20 × 38/18 × 32/16)
Primary reduction ratio
2.785~0.743
Final reduction ratio
Front
3.589 (25/24 × 20/19 × 36/11)
Rear
3.538 (46/13)
Frame type
Ladder type
Suspension system
Front
Double wishbone
Rear
4-link trailing arm
Tire size
Front
31×10.00R15
Rear
31×10.00R15
Brake type
Front
Hydraulic disc 258 mm (outer diameter)
Rear
Hydraulic disc 258 mm (outer diameter)
Max. permissible load
354 kg
Max. towing capacity
860 kg
Fuel tank capacity
40 L
| | |
| --- | --- |
| * | Numbers are overseas specifications. |
Contact