Kawasaki's US Plant Completes First Commercial Aircraft Cargo Doors for Boeing
Tokyo, 18, 2018 — Kawasaki Heavy Industries, Ltd. announced today (September 17, 2018 US local time) the completion of its first cargo doors to be used in a commercial aircraft for The Boeing Company. The doors were manufactured by Kawasaki's US subsidiary Kawasaki Motors Manufacturing Corp., U.S.A. (KMM) at its Lincoln Plant in the State of Nebraska. On the same day, a ceremony was held at the plant to commemorate the shipping out of these first cargo doors, with about 80 in attendance including representatives from Boeing and the governor of Nebraska.
In May 2017, Kawasaki opened its first US production line for aerostructures at the Lincoln Plant. The facility manufactures cargo doors for Boeing's 777X and other 777 family aircraft, and today successfully completed its first cargo doors. The 777 cargo doors, measuring in at 2.6 meters tall by 3.0 meters wide, is made of an aluminum alloy. These cargo doors will be sent to Boeing's Everett Factory in Washington State. Moving forward, the Lincoln Plant will continue producing cargo doors for Boeing's cutting-edge 777X commercial aircraft, and it plans to begin shipping out finished doors in February 2019.
The Lincoln Plant's aerostructure production line features proprietary painting robot developed by Kawasaki that provide intricate, precise paint application, as well as auto riveter with an expanded operating range and other state-of-the-art equipment in pursuit of greater automation. The plant incorporates the unique KPS* production system, developed through mass-production activities over the years, into line operations to achieve high-quality, high-efficiency production operations, while utilizing U.S.-made, locally procured materials and parts to cut down on transport costs and reduce lead times. To prepare for a future upgrade to a smart factory, the company also plans to integrate Information and Communication Technologies (ICT), the Internet of Things (IoT) and other technologies and infrastructure like those seen in the 777X assembly plant at Nagoya Works 1. The facility in Nagoya was established in February 2017 and handles production of forward and center fuselage sections and other aircraft components for the Boeing 777X.
Moving forward, Kawasaki will continue with cargo door production while pursuing further growth at the Lincoln Plant, a central production facility in the United States, where most of the company's primary customers are located, as part of efforts to further develop the Group's commercial aircraft business.
* Kawasaki Production System (KPS)
This proprietary Kawasaki production management approach aims to standardize operations in pursuit of consistent quality no matter who carries out operational tasks, thus ensuring reliable quality throughout. It also aims to establish workplace rules and regulations in order to ensure said standardized operations.
Overview of Kawasaki Motors Manufacturing Corp., U.S.A.
| | |
| --- | --- |
| Establishment | December 21, 1981 |
| Location | Lincoln, Nebraska, United States |
| Capital | 170 million USD (wholly owned by Kawasaki) |
| Business activities | Production of aerostructures, all-terrain vehicles, recreational utility vehicles, side x sides, Jet Ski® personal watercraft, all-purpose gasoline engines, and railway rolling stock |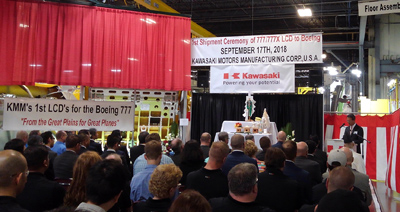 Contact