Kawasaki Delivers Cogeneration System with Newly Developed M5A Model 5 MW Gas Turbine, Boasting the World's Highest Energy Efficiency in Its Class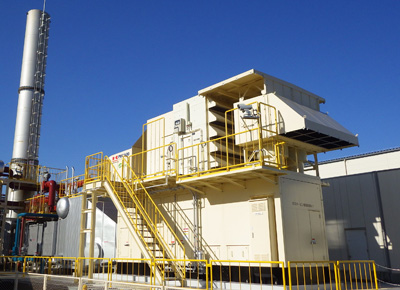 Tokyo, September 6, 2018 — Kawasaki Heavy Industries, Ltd. announced today its delivery of a first cogeneration (combined heat and power) system powered by Kawasaki's original 5 MW class M5A gas turbine. It was delivered to the IBIDEN Co., Ltd. Ogaki Plant in Ogaki City, Gifu Prefecture. IBIDEN started up the cogeneration system in July 2018 to provide both electricity and steam to the Ogaki Plant.
The M5A offers an electrical efficiency rating of 32.6%, the world's highest among 5 MW class models, and the GPB50D cogeneration system with the M5A enables a total energy efficiency rating of 84.5%—the highest in its class—combining electricity and steam output. This outstanding energy efficiency contributes to the reduction of energy costs and CO2 emissions. In the area of environmental performance, Kawasaki's latest combustion system with dry low emissions (DLE) technology achieves 52.5 ppm (0% for O2) nitrogen oxide (NOx) emission volumes. In terms of maintenance, the M5A is designed to facilitate overhaul replacement work on site and to enable simplified interim inspections (borescope inspections), which contribute to better annual operating rates (uptime).
The M5A is a gas turbine representing the crystallization of Kawasaki's small and medium-size gas turbine development technologies cultivated over the years, and it was released to the global market in November 2017. The integration of leading-edge technologies based on the company's experience in developing power-generation gas turbines that boast a track record of more than 11,000 units delivered to customers around the globe makes for a highly reliable product from the user's perspective. Kawasaki's M5A gas turbine offers leading performance in the 5 MW class, for which demand is particularly high around the world.
Interest in energy systems and products is growing around the world. This trend is particularly focused on cogeneration systems, which utilize gas turbines to deliver high efficiency and excellent environmental performance to customers. The company intends to make full use of its sales offices throughout Japan as well as Europe and Asia as it pursues global expansion of its energy-related business.


Contact