Additional Order for 72 cars and Overhaul from PATH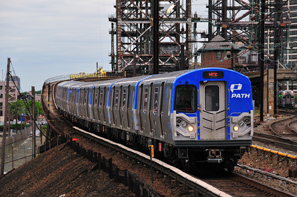 Tokyo, July 30, 2018 — Kawasaki Heavy Industries, Ltd. announced today that Kawasaki Rail Car, Inc. (KRC), its U.S. subsidiary based in Yonkers, New York, has received orders for additional 72 PA-5 railcars and the Overhaul of the existing 350 PA-5 cars from the Port Authority Trans-Hudson Corporation (PATH), a wholly owned subsidiary of the Port Authority of New York & New Jersey. The total amount of the order is approximately US$240 million.
Kawasaki will manufacture the PA-5 cars at its facilities in Lincoln, Nebraska and Yonkers, New York. The state of the art Lincoln Nebraska Facility, established in 2001, will manufacture the car body structure and install interior equipment, while final assembly and function testing will be performed at both Lincoln Facility as well as the Yonkers Facility, established in 1986, in Yonkers, New York. The cars are scheduled to be delivered to PATH for 2021 through 2022. The Overhaul of the existing 350 PA-5 will be conducted at the Yonkers Facility from 2018 through 2024.
The additional 72 cars will serve the PATH commuter line between New York and New Jersey together with the existing 350 PA-5 cars delivered by Kawasaki between 2009 and 2012. The existing 350 car overhaul program was initiated by PATH to maintain the high reliability of the system, and Kawasaki was chosen to perform this role.
The additional cars are as a part of PATH's effort to improve reliability and service for to address the demands of increase in ridership. Kawasaki's PA-5 cars have gained credibility from passengers through its high performance and reliability, which all contributed to the successful award do this order.
All PATH's cars running in service have been delivered by Kawasaki and with the orders of additional cars, total number of PA-5 cars in service will be increased to 422 cars.
Kawasaki, with its technological expertise will continue its service in providing high reliable railcars, an ecological solution to the ever growing transportation demands around the world.
Overview of PA-5 Commuter Train Car
| | |
| --- | --- |
| Car type | Commuter train (8-car sets) |
| Dimensions | 15.0 m (L) × 2.8 m (W) × 3.6 m (H) |
| Car body material | Stainless steel |




Contact

If you need more information about our business,
please feel free to contact us.

CONTACT