Operations Commence for Kawasaki's First New-model VEGA™ Boiler Used in Waste Heat Recovery Power Generation System for Cement Plant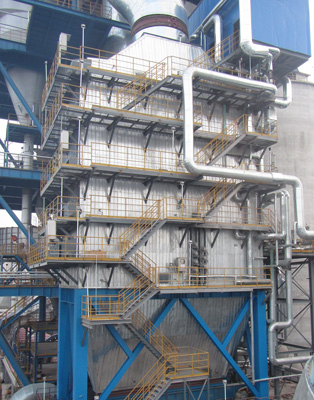 VEGA boiler installed at the Huaibei Zhongcheng Cement Co., Ltd.
Tokyo, February 22, 2018 — Kawasaki Heavy Industries, Ltd. announced today the start of operations for its first VEGA™ boiler*1, a new boiler type that generates power using waste heat recovered from cement plants. The boiler is co-developed with Chinese joint venture Anhui Conch Kawasaki Engineering Co., Ltd., and boiler operations commenced at a cement plant owned by Huaibei Zhongcheng Cement Co., Ltd. in Anhui Province, China.
The highly advanced VEGA boiler features a newly developed hammering mechanism offering high dust-removal performance. Furthermore, the VEGA boiler utilizes an improved heat transfer tube structure compared with conventional boilers to greatly reduce unit weight and required installation space, resulting in a much more compact boiler. Implementation of a modular block design for heat transfer tubes shortens the period of time required for installation, and reduced draft loss of the boiler body (compared with conventional boilers) cuts down on fan power consumption. Kawasaki utilizes these unique characteristics of the VEGA boiler to achieve multistage pressurization, enabling higher waste heat recovery power generation output.
Waste heat recovery power generation systems for cement plants recover unused heat from the exhaust gases that are normally released from the cement plant into the atmosphere, instead using it to operate a steam turbine for power generation. Among two available heat sources, the preheater (PH)*2 and clinker cooler (AQC)*3, the VEGA boiler recovers heat from the PH's exhaust gases, which contain large amounts of dust.
Anhui Conch Cement Company Limited, Kawasaki's joint venture partner in China, owns Huaibei Zhongcheng Cement Co., Ltd., where operations for the VEGA boiler were commenced. The plant produces 4,500 tons of cement each day, and its waste heat recovery power generation system outputs 7,800 kW. The power-generating facilities provide for approximately 30% of the plant's power requirements without the use of additional generating fuel.
Advantages of the VEGA Boiler
1. Reduced Weight through More Compact Design
Weight reduced by approximately 50%, and required installation space by approximately 40%, compared with conventional boilers
2. Shorter Installation Time
Use of modular block design for heat transfer tubes reduces the period of time required for installation by about 1.5 months
3. Reduced Power Consumptions for Induced Draft Fan
Boiler draft loss is about half that of conventional boilers, which reduces induced draft fan power consumptions
4. Increased Power Output
The use of multistage pressurization increases power generation output

Since Kawasaki's first delivery of cement plant waste heat recovery power generation system in 1980, the company has served as a global leader in this product category, providing the system to 13 plants within Japan as well as others in China, South Korea, Vietnam, India, Germany and elsewhere for approximately 250 plants in total. Together these generate about 2.7 million kW of electric power and cut CO2 emissions by roughly 16 million tons annually. Moving forward, Kawasaki will make use of its diverse technologies and experience built up over the years to supply waste heat recovery power generation systems to unequipped small- and medium-scale cement plants in Japan, respond to demand for plant refurbishments, and actively expand sales to overseas cement plants while helping to protect the global environment.
*1 Vertical Exhaust Gas Advanced (VEGA) boiler:
A highly advanced boiler in which gas flow is vertical. Because development of the VEGA boiler was completed on the day of Tanabata (the Star Festival), a Japanese festival celebrating the meeting of two stars in love, it was named after the star Vega, which represents one of the stars.
Trademark application has been completed for the name "VEGA."
*2 Preheater (PH):
Uses high-temperature exhaust gas from the calcining kiln to raise raw material temperatures prior to transfer into the kiln, facilitating the firing process.
*3 Clinker cooler (air quenching cooler):
Rapidly air-cools clinker output from the rotary kiln.
Overview of Anhui Conch Kawasaki Engineering Co., Ltd.
Head office
Wuhu City, Anhui Province, China
Representative
He Chengfa
Establishment
December 13, 2006
Capital
RMB 100 million (49% Kawasaki Heavy Industries, 51% Conch Venture Wuhu)
Business activities
Design, construction and installation of waste heat recovery power generation equipment, cement production facilities, and other energy-saving and environmental equipment, as well as design, development, procurement, sales and technical services for various components
Contact