Kawasaki Receives First Order for Newly Developed E-series Rexpeller Azimuth Thruster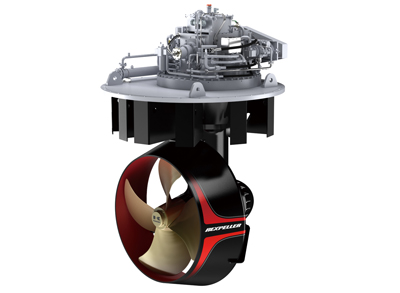 Tokyo, February 13, 2018 — Kawasaki Heavy Industries, Ltd. announced today the receipt of its first order for the newly developed E-series Rexpeller azimuth thruster. Four units were ordered by China Communications Import & Export Corporation (CIESCO) for delivery to Tianjin Lingang Tug Co., Ltd., which plans to install them in tugboats scheduled to enter service in the second half of 2018 to assist large ships entering and leaving China's Port of Tianjin.
The Rexpeller can be freely rotated 360 degrees horizontally to generate thrust in any direction and thus functions as a propulsor and rudder. Thanks to the excellent maneuverability it provides, the Rexpeller is often used on tugboats, supply boats, drillships and cable layers.
The E-series Rexpellers ordered by CIESCO offer excellent energy savings through improvements of propulsive performance, easier onboard maintenance, and environmentally friendly performance.
1)

Energy saving
Kawasaki has achieved reduction of energy consumption of up to 7% compared to the conventional series by developing a high-performance and compact propeller duct (Kort nozzle), and optimizing the lower gear case, based on the latest fluid analysis.

2)

Easy maintenance
Kawasaki made maintenance operations inside the ship easier by reworking the entire structure of the integrated hydraulic clutch.
In addition, expansion of inboard maintenance space, flexible hull design, and easier installation have been achieved by arranging the adjacent auxiliaries compactly around the upper gearbox.

3)

Environmentally friendly
The use of a high-quality fluororubber (FKM) propeller shaft seal ensures high reliability and reduces the risk of ocean pollution via oil leakages. A monitoring function of the propeller shaft and steering seal is available as an option.

Kawasaki began production of Rexpeller azimuth thrusters in 1983 and has since delivered approximately 1,000 units. Moving forward, the company hopes to continue contributing to maritime shipping and other marine industries around the world through the provision of propulsion equipment that offers excellent propulsive performance, energy savings and environmental performance for various ships.

* Rexpeller is a registered trademark of Kawasaki Heavy Industries, Ltd.

Overview of Latest Rexpellers Ordered
Product name
E-series Rexpeller
Model no.
KST-180ZF/E
Input power
1,471kW
Propeller diameter
2.2m




Contact

If you need more information about our business,
please feel free to contact us.

CONTACT