Delivery of LNG Transport Vessel BISHU MARU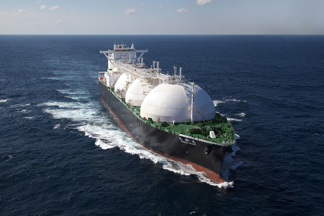 Tokyo, December 26, 2017 — Kawasaki Heavy Industries, Ltd. today delivered the BISHU MARU (Kawasaki hull no. 1713), a 164,700 m3 capacity liquefied natural gas (LNG) transport vessel for use by Kawasaki Kisen Kaisha, Ltd. ("K" Line).
The second of Kawasaki's line of 164,700 m3 capacity LNG carriers to be commissioned, this ship is designed to enable passage through the newly expanded Panama Canal, which opened for full operations in 2016. The vessel features standard LNG carrier hull dimensions in order to enable docking at major LNG terminals around the world while offering larger cargo tanks for increased transport capacity, thus cutting LNG transport costs and facilitating more flexible LNG trade operations by shipowners.
In addition, Kawasaki has made hull structure improvements to decrease overall ship weight and achieved a more optimal below-waterline hull design to fully optimize propulsive performance.
The new carrier is also equipped with a Kawasaki Advanced Reheat Turbine Plant (Kawasaki URA Plant)* as its main engine unit. This reheating-type steam-turbine propulsion plant developed by Kawasaki offers significant improvements to transport efficiency.
Moving forward, Kawasaki will continue to pursue shipbuilding operations in light of the anticipated rise in demand for LNG and other clean-energy fuels.
Delivery, principal particulars, and features of the vessel are as described below.

| | |
| --- | --- |
| Delivery | December 26, 2017 |
Principal Particulars
Length overall
293.00 m
Length between perpendiculars
280.00 m
Molded breadth
48.90 m
Molded depth
27.00 m
Molded draft
12.20 m
Gross tonnage
127,088 t
Deadweight tonnage
83,752 t
Hold capacity
165,109 m3
Main engine
One set of Kawasaki URA-400 reheating-type steam-turbine engine
Maximum continuous output: 26,800 kW at 70 rpm
Service speed (approx.)
19.5 kn
Complement
48 people
Classification
ClassNK
Country of registration
Panama
Features
This large-scale LNG carrier is equipped with four independent Moss LNG tanks for a total cargo capacity of 165,109 m3.
The thermal insulation system of the LNG tanks adopts the proprietary Kawasaki Panel System developed in-house, which offers outstanding heat insulation performance for an LNG boil-off rate of no more than approximately 0.08% per day.
The Kawasaki URA Plant was used to enable an increase in transport efficiency of more than 25% compared with previous, 147,000 m3 capacity LNG carriers.
The cargo tank section is protected by a double-hull and double-bottom design, so even if the carrier's hull were to sustain damage the LNG tanks within would remain safe and undamaged.
The bridge is designed with state-of-the-art electronic navigation equipment concentrated in one location for greater ease of operation as well as panoramic windows offering a 360-degree view to the outside.
* Kawasaki Advanced Reheat Turbine Plant (Kawasaki URA Plant)
This steam turbine plant achieves a dramatic increase in thermal efficiency by utilizing a reheat cycle whereby steam that was used to drive the high-pressure turbine is returned to the boiler to be reheated before being sent back to the medium-pressure turbine. The first LNG carrier equipped with the Kawasaki Advanced Reheat Turbine Plant was commissioned in September 2011, and the steam turbine plant powering Kawasaki's latest LNG carrier has been further improved using data obtained through sea trials and actual operations using the first plant.
Contact