Kawasaki Commences Sales of M5A Gas Turbines Boasting World-leading Efficiency in the 5 MW Class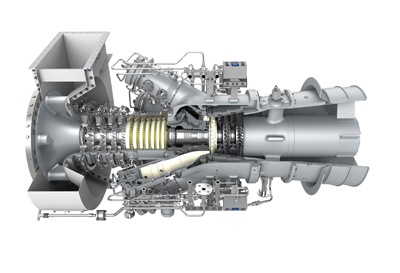 Tokyo, November 7, 2017 — Kawasaki Heavy Industries, Ltd. announced today the completion of its development of the 5 MW class M5A gas turbine, a fully made-in-Japan product offering ultra-high efficiency. The company plans to launch sales of this product both in Japan and overseas this month.
The M5A offers 32.6% generating efficiency, the world's highest among 5 MW models, and the PUC50D cogeneration system using the M5A enables 84.5% combined generating efficiency—the highest in its class. This high combined efficiency helps cut energy costs and reduce CO2 emissions. In the area of environmental performance, use of the latest dry low emission (DLE) technology has enabled the achievement of 52.5 ppm (0% for O2) nitrogen oxide (NOx) emission volumes. In terms of maintenance, Kawasaki has designed the M5A to facilitate more efficient overhaul and replacement operations and enable simplified interim inspections (borescope inspections), which help improve annual operating rates (uptime).
The M5A represents a crystallization of Kawasaki's small and medium-size industrial-use gas turbine development technologies cultivated over the years. The integration of leading-edge technologies based on the company's experience in developing power-generation gas turbines that boast a track record of more than 11,000 units delivered to customers around the globe makes for a highly reliable product from the user's perspective.
Interest in energy systems and products is growing increasingly strong around the world. This is particularly true of cogeneration systems, which utilize gas-turbine engines to deliver high efficiency and excellent environmental performance. Kawasaki's M5A turbine offers leading performance in the 5 MW class, for which demand is particularly high both domestically and internationally, and this latest model is expected to generate considerable demand. The company intends to make full use of its sales offices throughout Japan as well as Europe and Asia as it pursues active expansion of its gas turbine business.


Contact