Kawasaki Receives First Order for New H145//BK117 D-2 Helicopter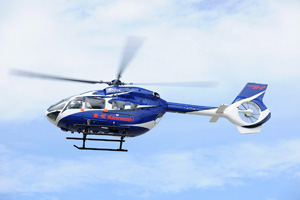 Tokyo, March 10, 2017 — Kawasaki Heavy Industries, Ltd. announced today the receipt of an order for its new H145//BK117 D-2 helicopter (BK117 D-2) by Central Helicopter Service Ltd. This is the first order Kawasaki has received for the BK117 D-2, and the customer plans to use the helicopter in a range of applications, including emergency medical service and personnel and cargo transport operations.
The BK117 D-2 was developed jointly with European company Airbus Helicopters Deutschland GmbH. This new model retains the features offered by the previous BK117 C-2 that earned it high marks, such as the wide clamshell doors at the rear which enable easy loading and unloading of long stretchers and so forth, and a design that is compact overall while offering a spacious interior cabin to facilitate medical procedures. The D-2 also offers some novel features, including a new computer-controlled engine, cutting-edge integrated instruments and a new ducted-fan design for the tail rotor, which boost high-altitude performance, reduce pilot workload and enable the quietest operation in this helicopter's class.
The BK117 is a medium-sized, twin-engine helicopter used for various purposes including emergency medical services, personnel and cargo transport, firefighting, disaster relief, law enforcement and broadcasting. Following delivery of the first model in 1983, this domestically produced helicopter has been continually improved over the years, and thanks to the aircraft's outstanding technological strengths and high reliability, Kawasaki has successfully delivered 172 units as of March 10, 2017. Until today, a total of more than 1,300 BK117/EC145 helicopters have been delivered worldwide, combining deliveries made by Airbus Helicopters, Kawasaki's development and manufacturing partner.
Moving forward, Kawasaki will actively pursue sales of the H145//BK117 D-2 based on its outstanding technical strengths and high reliability as well as the thoroughgoing support framework only possible with domestically produced products.

Basic Specifications
Length
13.64 m
Width
1.73 m (body)
Height
3.95 m
Capacity
10 (maximum number of seats)
Maximum load
3,700 kg
Maximum speed
Approx. 267 km/h
Cruising range
740 km (standard tank, maximum load, ISA + 20°C, 5,000 ft.)
Contact