US Rail Car Plant Achieves the Manufacturing Milestone of Two Thousand Rail Cars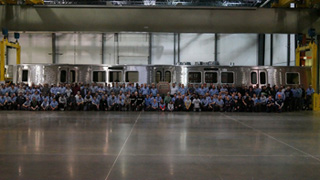 Tokyo, February 2, 2017 — Kawasaki Heavy Industries, Ltd. announced today that group company Kawasaki Motors Manufacturing Corp., U.S.A. (KMM) based in Lincoln, Nebraska has achieved the manufacturing milestone of 2,000 rail cars. To celebrate the milestone , a commemorative event was held today (February 1 in CST). The 2,000th rail car was a 7000-series subway car built for the Washington Metropolitan Area Transit Authority.
KMM's Lincoln plant began operations in 2001 as the Kawasaki Group's second rail car manufacturing plant in the United States, and the facility's integrated production system handles everything from car body production to final assembly. Lincoln reached a cumulative manufacturing total of 1,000 rail cars in February 2010, and in December of the same year KMM expanded the production line, added testing facilities and made other upgrades to the plant.
In recent years, the Lincoln plant has produced subway trains for the Metropolitan Transportation Authority, commuter trains for Metro-North Railroad, and otherwise responded to strong American market demand in this field. Furthermore, KMM is focused on locally-based manufacturing, intentionally procuring U.S.-produced parts, thus contributing to an increase in local employment. These cars are highly rated by our clients for their superior quality and meet all "Buy America" requirements. Kawasaki is pursuing renewal projects for existing rolling stock, transport capacity enhancement plans and other such endeavors in the United States with a primary focus on the Northeast Corridor, and even greater demand for rail car production is expected in the future.
KMM will continue striving to manufacture high-quality rolling stock to maintain customer satisfaction, we are already working toward the 3,000 car milestone and we will continue our effort to demonstrate the technological prowess and product reliability associated with the Kawasaki Group.
Overview of KMM

| | | | |
| --- | --- | --- | --- |
| | Company name: | | Kawasaki Motors Manufacturing Corp., U.S.A. |
| | Head office: | | Lincoln, Nebraska, USA |
| | Representative: | | Masanobu Kurushima |
| | Establishment: | | December 21, 1981 |
| | Capital: | | US$170,000,000 (wholly owned by Kawasaki Heavy Industries) |
| | Business activities: | | All-terrain vehicle (ATV), recreational utility vehicle (RUV), side x side and Jet Ski® personal watercraft (PWC) production; general-purpose gasoline engine production; rolling stock production, related services and engineering |
Contact