Kawasaki Delivers 100th Unit of CH-47J/JA Transport Helicopter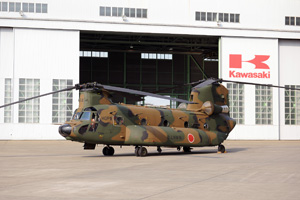 Tokyo, January 17, 2017 — Kawasaki Heavy Industries, Ltd. announced today that they delivered the 100th unit of the CH-47J/CH-47JA transport helicopter to the 1st Helicopter Brigade of the Japan Ground Self-Defense Force (JGSDF). Kawasaki produces the helicopter for the JGSDF and the Japan Air Self-Defense Force (JASDF).
Introduced by the JGSDF to replace the older V-107 transport models, the CH-47J/JA is a tandem rotor helicopter with rotor blades in both the Forward and the Aft. This model has a large ramp door in the Aft Section to facilitate easy loading/unloading of cargo and so forth, and it performs excellent maneuverability and stability. The CH-47J/JA is used for disaster relief, personnel transport, international missions and a wide range of other operations.
Kawasaki launched the production of the CH-47J under the license from the Boeing Company in the United States 1984. Since FY 1986, Kawasaki has delivered a total of 69 units of both the CH-47J and the CH-47JA (an upgraded version of the CH-47J equipped with a larger fuel tank to enable greater flight range) to the JGSDF. Between FY 1986 and FY 2012, the company also delivered 31 units to the Japan Air Self-Defense Force (JASDF).
Kawasaki will continue to provide thoroughgoing service support for active transport helicopters while leveraging technological capabilities fostered through the production, repairs and improvements of these helicopter models to contribute toward further development in Japan's aerospace industry.
CH-47JA Basic Specifications

Length (fuselage)
30.18 m (15.88 m)
Width (fuselage)
18.29 m (4.78 m)
Height
5.69 m
Main rotor diameter
18.29 m (2 sets of 3 blades)
Passenger capacity
3 persons (pilot and crew) + 55 persons

Engine

Model

Max. continuous output
(shaft horsepower)




T55-K-712A

4,115 SHP × 2



Contact