Delivery of LNG-fueled Car Carrier Auto Energy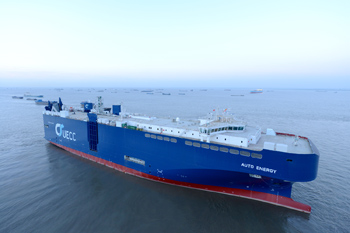 Tokyo, December 1, 2016 — Kawasaki Heavy Industries, Ltd. announced today the November 29 delivery of the Auto Energy (official naming scheduled for late January 2017; Kawasaki hull no. 8020, NACKS hull no. NE213), a pure car and truck carrier (PCTC) vessel capable of transporting 4,000 vehicles. The ship was delivered to United European Car Carriers (Isle of Man) Ltd. (UECC) at the Nantong COSCO KHI Ship Engineering Co., Ltd. (NACKS) shipyard in Nantong, China.
The Auto Energy is the second vessel of the world's first PCTC to use a dual-fuel engine (ME-GI engine) for both the main and auxiliary engines. In addition to the use of heavy fuel oil (marine gas oil) as fuel, this vessel can be run on liquefied natural gas (LNG), which is growing increasingly prominent as a clean energy alternative. The Auto Energy also meets exhaust gas regulations established by the International Maritime Organization (IMO).
In addition to building LNG-fueled transport vessels, Kawasaki plans to build LNG supply ships and also take advantage of the synergy achieved through coordinated application of the wide range of LNG-related technologies to actively pursue establishment of the supply chains necessary for the transition to widespread LNG fuel dissemination, with the aim of making LNG a primary fuel source throughout the commercial shipping industry.
| | |
| --- | --- |
| Delivery | November 29, 2016 |
Principal Particulars
Length overall
Approx. 181 m
Length between perpendiculars
170.50 m
Molded breadth
30.00 m
Molded depth
30.22 m
Full draft
9.60 m
Total tonnage
42,424 t
Deadweight tonnage
16,990 t
Total loading car capacity
3,985 cars
Main engine
MAN B&W 8S50ME-C8.2-GI
Maximum continuous output: 11,100 kW at 113 rpm
Complement
30 people
Class
Lloyd's Register of Shipping
Registry
Madeira
Advantages Offered by the Auto
Energy
The Auto Energy uses a dual-fuel engine for both the main and auxiliary engines, which can be run on either heavy fuel oil or LNG. Compared with heavy fuel oil firing, use of LNG as the main engine's fuel source can cut carbon dioxide (CO2) emissions by 23%, nitrogen oxide (NOx) emissions by 13%, sulfur oxide (SOx) emissions by 92% and particulate matter (PM) emissions by 37%. Furthermore, the adoption of LNG as fuel enables the fulfillment of Energy Efficiency Design Index (EEDI) Phase 3 standards.
Offering a standard cargo capacity of 3,985 vehicles, this PCTC vessel is designed to facilitate highly efficient use of interior space. Vehicles loaded with dangerous substances or cargo can be secured on the boarding deck for transport.
Two levels of the ship's ten-story car-loading decks are movable, and because two stories' worth of space has been set aside for these movable sections, they can be flexibly converted into bigger loading spaces when transporting buses, trucks and various other large vehicles.
The Auto Energy is also designed to meet the highest Finnish-Swedish ice class 1A Super specifications, enabling navigation of the severe, ice-filled waters of the Baltic Sea.
Contact