Kawasaki Starts Sales of New H145//BK117 D-2 Helicopters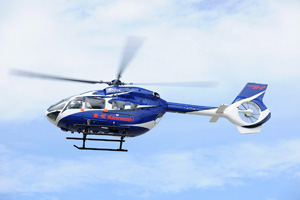 Tokyo, October 12, 2016 - Kawasaki Heavy Industries, Ltd. announced today its release of the new H145//BK117 D-2 helicopter (BK117 D-2), which was developed jointly with Airbus Helicopters Deutschland GmbH. In addition to direct sales by Kawasaki, Airbus Helicopters Japan Co., Ltd. has been named as its sales agent for the new model in Japan in an effort to strengthen its sales network.
The BK117 D-2 features highly improved flight and safety performance, while taking over the features of the previous BK117 C-2 that have earned high marks, such as the versatile, wide clamshell doors at the rear and the aero dynamic component, which boasts more than four million hours of real flight time.
Advantages Offered by the BK117 D-2
1) Improved Hovering Performance
Adoption of a high-output engine and enhancements to the main gearbox performance have enabled major improvements in hovering performance.
2) Reduced Pilot Workload
A new automatic pilot system combined with integrated instruments utilizing the latest technologies help reduce burden on the pilot.
3) Unparalleled Noise Reduction
The introduction of a ducted-fan design for the tail rotor enables the best noise-reduction available for this class of helicopter.
4) Upgraded Safety Performance
The inclusion of twin high-output electronically controlled (FADEC: Full Authority Digital Engine Control) engines mean that even if an engine problem or failure occurs, the helicopter can sustain safe flight.
5) Reduced Maintenance Costs
Improvements such as increased engine durability enable longer maintenance intervals, thus cutting overall maintenance costs.

Basic Specifications
Length
13.64 m
Width
1.73 m (body)
Height
3.95 m
Capacity
10 (maximum number of seats)
Maximum take-off weight
3,700 kg
Maximum speed
Approx. 267 km/h
Cruising range
740 km (standard tank, maximum take-off weight, ISA + 20°C, 5,000 ft.)
The BK117 is a medium-sized, twin-engine helicopter used for various purposes, including emergency medical services, firefighting, disaster relief, law enforcement, broadcasting, and personnel and cargo transport. Following delivery of the first model in 1983, this helicopter has been continually improved over the years, and thanks to the aircraft's outstanding technological strengths and high reliability, Kawasaki has successfully delivered 172 units as of October 12, 2016. This number comes to more than 1,200 units worldwide if products sold by Airbus Helicopters are factored in, making it a global bestseller.
Moving forward, Kawasaki will continue making performance improvements to the BK117, and developing various other equipment and components as needed. Furthermore, the company will leverage strong customer trust fostered through past business operations, as well as the company's thoroughgoing customer support system encompassing everything from development to manufacturing, sales and after-sales services, as they actively pursue further business activities around the world.
Contact