Final Delivery of OH-6D Periodical Maintenance to JGSDF Completed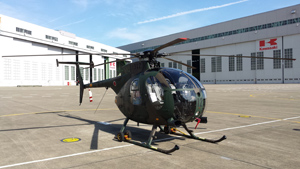 Tokyo, August 30, 2016 - Kawasaki Heavy Industries, Ltd. today delivered the last of a series of OH-6D observation helicopters undergoing periodical maintenance to the 6th Aviation Squadron of the Japan Ground Self-Defense Force (JGSDF), bringing the total number of deliveries to 1,055.
Introduced as a successor to the OH-6J, the OH-6D is a light weight helicopter equipped with five main rotor blades, featuring high performance in terms of maneuverability, stability and maintainability. It has been used for many applications such as observation, pilot training, and transportation of personnel.
Kawasaki launched OH-6J production in 1967 under a license agreement with US company Hughes Helicopters, Inc. (currently MD Helicopters, Inc.). Production of the OH-6D started in FY1979 and continued until FY1997, resulting in the delivery of 193 helicopters during that period. Periodical maintenance started in FY1983.
Kawasaki is committed to providing the Japanese Ministry of Defense with support for the OH-6D's operation until its retirement. Kawasaki aims to make a further leap into the future by taking advantage of the technology cultivated through its support activities.
OH-6D Basic Specifications
Length (fuselage)
7.10 m
M/R Dia. (fuselage)
2.07 m
Height (fuselage)
2.72 m
Main rotor diameter
8.05 m
Passenger capacity
4 persons (pilot + crews)

Engine

Model

Max. continuous output

(shaft horsepower)

250-C20B
350 SHP
Contact