Kawasaki Opens Tokyo Robot Center Showroom "Kawasaki Robostage"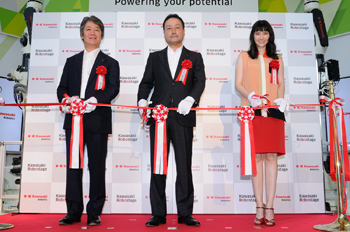 Tokyo, August 5, 2016 - Kawasaki Heavy Industries, Ltd. announced today its opening of Tokyo Robot Center Showroom (PDF:394.4KB)

in Odaiba, Tokyo as a new facility to offer robotics-related information.
The facility will begin operations on August 6. The newly opened "Kawasaki Robostage"is designed to connect human creativity with Kawasaki's advanced technologies while providing opportunities for visitors to have a taste of the envisioned future relationships between humans and robots. Setting a main concept "human-robot coexistence and collaboration," Kawasaki intends to propose new forms of human–robot coexistence and collaboration towards the coming robot society.
Kawasaki has already established other robotics demonstration facilities at its sales and service centers in the country and overseas, and in October 2014 the company opened one of the largest robot showrooms in Japan at the company's Nishi-Kobe Works in Hyogo Prefecture. Through these facilities, Kawasaki has offered up proposals to companies considering actual integration of robots in its operations. This latest showroom in Tokyo, on the other hand, targets both companies considering utilizing robots as well as the general public, aiming to serve as a place where anyone can come to see, experience and take in the marvels of robots and deepen their understanding of robotics.
By promptly establishing a base in Tokyo ―which is attracting attention with the approach of the Tokyo Olympic Games in 2020-in anticipation of a future in which humans and robots coexist and collaborate, we are striving to enhance the company's brand value. We will also communicate pertinent information while promoting more robust collaboration with government agencies, research institutions, universities, and graduate schools. In addition, technologies that enable networking between the Internet and physical things—known as the Internet of Things (IoT)—are expected to have a major impact on the ways in which robots are used. By linking it with factories around the world, Kawasaki strives to make the facility capable of IoT research and testing.
"Japan's Robot Strategy," a government-led initiative, is expanding robot applications to a wide range of fields. By positioning this new showroom as a place to experience easy-to-use robots as well as a promotional robotics hub for the 2020 International Robotics Competition, Kawasaki is contributing toward the government's goal of robotics industry growth as well as toward the widespread introduction and integration of robot usage at small and medium-sized companies.
Tokyo Robot Center Showroom "Kawasaki Robostage" Overview
Address
2-3-1, Daiba, Minato-ku, Tokyo
Business hours
10:00 a.m. - 6:00 p.m. every day
(Business hours for October onward may be changed)
Public transportation access
Approx. 5 min. on foot from Odaiba-kaihinkoen Sta. (Waterfront New Transit Yurikamome Line), or approx. 7 min. on foot from Tokyo Teleport Sta. (Tokyo Waterfront Area Rapid Transit Rinkai Line)

Exhibition area size
Approx. 132 m2
Main robots on display
duAro dual-armed SCARA robot, large BX165 robot and many others (exhibits will be updated in the future)
Tokyo Robot Center Showroom (PDF:394.4KB)

Contact