Kawasaki Receives Order for Super High-speed Passenger Ship "Kawasaki JETFOIL" to Shuttle between Tokyo and Izu Islands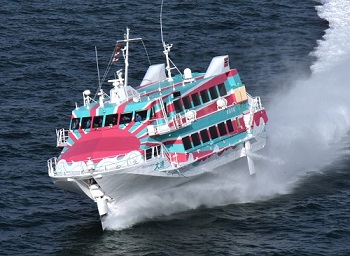 Kawasaki JETFOIL in service
Tokyo, June 30, 2017 — Kawasaki Heavy Industries, Ltd. announced today its receipt of a joint order from Tokai Kisen Co., Ltd. and the Japan Railway Construction, Transport and Technology Agency (JRTT) for the construction of one Kawasaki JETFOIL. This JETFOIL will be constructed at Kobe Works and, after being delivered in June 2020, be used to transport passengers mainly between Tokyo Takeshiba Terminal and the Izu Islands.
After concluding a manufacturing license agreement with taking over the rights to produce and sell jetfoils from The Boeing Company in 1987, Kawasaki built 15 JETFOILs between 1989 and 1995. This latest order represents the first Kawasaki JETFOIL to be manufactured in 25 years.
JETFOIL is the name given to Kawasaki's hydrofoil and super high-speed passenger ship. JETFOIL utilizes the fully submerged foils at the fore and aft of the hull to lift the hull up off the water at the foilborne speed of over 80 km/h. To gain propulsion, two waterjet propulsors driven by two gas turbine engines discharge 3 t/sec of seawater from nozzles at the aft end of JETFOIL. JETFOIL can provide passengers with a comfortable ride even in waves as high as 3.5 m and change directions smoothly by banking inward like an aircraft so that passengers can enjoy seasickness-free travel.
Kawasaki will actively continue to construct JETFOILs in order to contribute to high-speed maritime passenger transportations not only in Japan but worldwide.
Primary Specifications
Total length
27.4 m (with hydrofoils down)
Width
8.5 m
Sea speed
43 knots
Passenger capacity
241 persons


Contact