Kawasaki to Build and Operate Waste Treatment Facility in Fuji City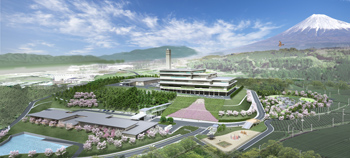 Tokyo, February 15, 2017 — Kawasaki Heavy Industries, Ltd. announced today that it has been awarded a contract by Fuji City for a project covering the construction and operation of a new environmental clean center. This will be a DBO* project in which Kawasaki will design and build the facility and then operate it for twenty years.
The waste treatment facility to be built under the project will be capable of treating 250 tons of waste per day using two incinerators (each with a capacity to process 125 tons in 24 hours). It will employ the Company's proprietary parallel flow incinerators to burn waste completely with small amounts of air. The facility will also be equipped with bag filters, a selective catalytic reduction system, a flue gas recirculation system, and other advanced flue gas processing systems, designed to reduce emissions of hazardous substances such as dioxins and carbon monoxide as well as gas in general. On top of that, each of the incinerators combines high-temperature, high-pressure boilers and condensing steam turbines for highly efficient electric power generation, which will supply all the electricity the facility needs with surplus power left over to sell. Moreover, the waste heat recovered from the incineration process will be used to produce hot water, which will be supplied to a nearby facility where visitors can experience the technology behind waste heat utilization. This waste-to-energy facility will be established and operated based on the basic concept of a "resource circulation park that guarantees both safety and trustworthiness," with the aims of maintaining a harmonious balance with natural environments and achieving unity with the local region and Mount Fuji.
The facility will be constructed by a joint venture between Kawasaki and local companies Ishiigumi, Ltd. and Idegumi, Ltd., and facility operation will be handled by a joint venture between Kawasaki and Shinki Corporation.
Boasting a wide range of waste treatment technologies in addition to the stoker incinerator, Kawasaki will continue to develop innovations and deliver products in response to increasingly diverse environmental problems and societal needs.
*DBO: Refers to the design-build-operate approach in which design, construction and operation are contracted out to a private-sector company or companies.

Fuji City New Environmental Clean Center Construction and Operation Project
Client
Fuji City
Contractor
Joint venture between Kawasaki, Ishiigumi and Idegumi for the project
Construction site
Obuchi, Fuji City, Shizuoka Prefecture
Facilities
(1) Waste incineration facility: stoker incinerators, 250 tons/day (125 tons / 24 hours × 2 incinerators)
(2) Recycling facility (2.72tons / day(average))
Scheduled completion date
September 30, 2020
Contract sum
22,680,000,000 yen (including consumption tax)
Operation
| | |
| --- | --- |
| Client | Fuji City |
| Contractor | Joint venture between Kawasaki and Shinki Corporation for the project |
| Contract period | October 1, 2020 to September 30, 2040 (20 years) |
| Contract sum | 14,580,000,000 yen (including consumption tax) |
Contact