Kawasaki Receives Order from Kobe Steel for Two Coal Plant Ash Handling Systems
Tokyo, April 11, 2016 - Kawasaki Heavy Industries, Ltd. announced today that is has received an order from Kobe Steel, Ltd. for two ash handling systems for Kobe Steel, Ltd.'s new Thermal Power Station No. 1 and No. 2 at the Kobe Works (tentative). Kawasaki is responsible for design, manufacture, equipment procurement and installation. The first and second systems are scheduled for completion in FY 2021 and FY 2022, respectively.
These ash handling systems are designed to handle combustion ash from the coal used as fuel to generate power. These will be installed in two power generating units (650,000 kW output each) of Kobe Steel, Ltd.'s Thermal Power Station No. 1 and No. 2.
Each system is composed of a subsystem to handle fly ash (airborne ash in exhaust gas) captured by an electrostatic precipitator and a subsystem to handle bottom ash (also known as clinker ash) from the bottom of the furnace. Bottom ash is dry-treated using conveyor-based bottom ash handling technology from Magaldi Power S.p.A., a company based in Italy. The old wet handling method uses water to cool and transport bottom ash, which is then dewatered and carried to the ash disposal site by truck or other such method. In contrast, the dry handling approach uses air to cool the bottom ash, which is then pulverized and transported for disposal all at once. This decreases environmental impact, reduces costs and reduces space requirements by eliminating the need of equipment for water supply, wastewater treatment, dewatering and water storage. It also increases boiler efficiency and saves energy by enabling recovery of sensible heat*1 from bottom ash, reaction heat from unburned carbon and radiant heat*2 from the furnace.
Kawasaki is the only manufacturer in Japan with experience providing dry-ash handling systems: since its first delivery in 2002 for Kobe Steel's No. 1 Power Plant, Kawasaki has received 12 domestic orders (including this one). If conventional wet ash handling systems are also considered, Kawasaki has supplied 60 ash handling systems to commercial coal plants in Japan, representing an overall market share of about 80 percent. The company has earned this latest order thanks to its reputation for technical excellence and expertise in the field.
Many more construction and expansion projects are planned for thermal power plants in Japan. Kawasaki intends to continue supplying power plant equipment like these ash handling systems as part of efforts in the energy and environmental fields.
*1 Heat expended to change temperature without changing the state of matter
*2 Heat transmitted directly between bodies via electromagnetic waves

Facility Overview
Installation location
Kobe Steel, Ltd.'s new Thermal Power Station No. 1 and No. 2 at the Kobe Works (tentative)
Ash handling system

Conveyor-based dry treatment (bottom ash processing)

Combined vacuum-transport and pneumatic-transport (fly ash processing)

Ash storage facilities (three ash silos)

Shipping facilities for ship-based transport of dry and wet ash as well as truck-based transport of dry and wet ash

Power plant facilities
650,000 kW × 2 units, single-fuel coal firing (using pulverized coal)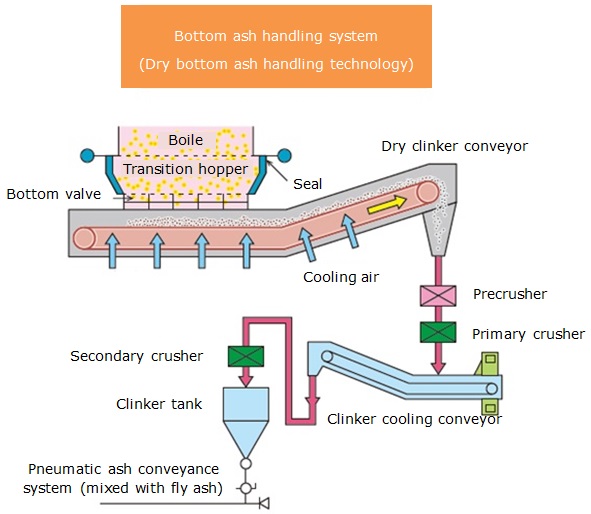 Contact