Kawasaki to Launch M7V/M7X Series Swash Plate Axial Piston Motors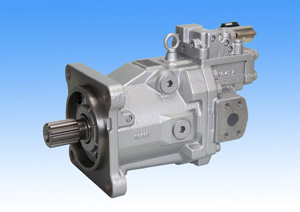 Tokyo, September 28, 2015 - Kawasaki Heavy Industries, Ltd. announced today that it will launch its M7V/M7X series of swash plate type axial piston motors on October 1, 2015.
The M7V variable displacement motors and M7X fixed displacement motors feature the most outstanding high-speed performance of any swash plate motor on the market. These hydraulic motors are designed to perform a wide range of operations, including powering winches, drills, and other construction machines, as well as HST* drive systems for industrial vehicles. When used for HST drive systems, the M7V/M7X series can be combined with any of the newly released K8V series swash plate type axial piston pumps.
In putting the M7V/M7X series together, Kawasaki leveraged its vast experience in the field of construction machinery and industrial vehicles, whilst employing the fluid dynamics technology it cultivated through aircraft and rolling stock R&D to incorporate newly developed rotary components (pistons, cylinders, etc.). On top of the swash plate motor's unique compact design, the M7V/M7X series delivers high-speed performance as never seen before. These motors start up fast to ensure smooth operation and work outstandingly well at low speeds in delicate operations where precision performance is a must. All these features enhance motor operability and make installing the M7V/M7X in industrial vehicles simple.
Electric or hydraulic pilot-operated proportional control and constant pressure control make this series the ideal choice for a wide range of needs.
The M7V series includes the M7V112 (with a displacement of 112 cm3) and the M7V160 (with a displacement of 160 cm3), which are slated to be released on October 1, 2015, as well as the M7V85 (with a displacement of 85 cm3), scheduled to debut in the summer of 2016.
[*]

HST (hydrostatic transmission) is a type of transmission mechanism that transmits power from an engine by adjusting displacement from a hydraulic pump and hydraulic motor to make continuously variable transmission possible.
Specifications
Model

Variable displacement motor

Fixed displacement motor

M7V
85

M7V
112

M7V
160

M7X
85

M7X
112

M7X
160

Displacement (cm3)
Max.

85

112

160

85

112

160

Min.

0-65

0-85

0-120

-

Pressure
(MPa)
Rated

40

Max.

45

Max. speed (min-1)
at qmax

3,900

3,550

3,100

3,900

3,550

3,100

at q < 0.6qmax

6,150

5,600

4,900

-
qmax

:Max. displacement

q

:Displacement
Contact