The Kawasaki Report 2018 Issued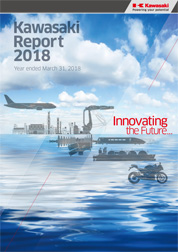 Kawasaki Heavy Industries, Ltd. has issued the Kawasaki Report 2018, an integrated report

.
The report highlights our business environment and strategies, social value created through businesses, and our approach to SDGs.
Operating under the mission statement "Kawasaki, working as one for the good of the planet," Kawasaki Group is moving forward to achieve a unified management that incorporates CSR activities.
In addition to this report, a detailed report with a focus on CSR data is published on our website

Kawasaki hopes this report will serve as a basis for dialog with its stakeholders, drawing out input regarding their expectations and requests for Kawasaki's corporate activities.
Contact