WMATA Places Orders for 220 More New Subway Cars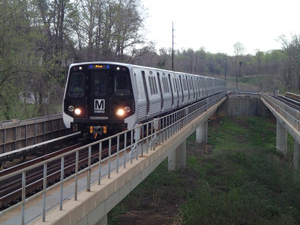 Tokyo, July 13, 2015 – Kawasaki Heavy Industries, Ltd. announced today that it has received an approximately 400 million dollar order from the Washington Metropolitan Area Transit Authority (WMATA) for an additional 220 subway cars (Series 7000). All 220 of the Series 7000 subway cars will be manufactured at Kawasaki's Lincoln plant in the U.S. state of Nebraska and are scheduled for delivery between 2018 and 2019.
This order completes the final option of an original base contract for 64 cars ordered back in 2010. The exercising of this option brings the total number of Series 7000 cars ordered up to 748 and the cumulative total value of the contract to 1.47 billion dollars.
The additional 220 cars will replace existing cars in the WMATA subway fleet. Once their delivery is complete, more than half of all the WMATA's transit cars will be Kawasaki-made.
The Series 7000 cars are being introduced as part of the WMATA's efforts to enhance customer service. They will be used in an expansion project linking Dulles International Airport, replace some of the oldest rail cars in the existing fleet, and help ease congestion. The WMATA began phasing the new rail cars into service in April 2015 and so far everything has been running smoothly. The first stainless steel cars to be put into service by the WMATA, the Series 7000 increases passenger capacity over existing models by eliminating one operator compartment every two cars. The Series 7000's state-of-the-art systems, including monitors for displaying digital content, CCTV cameras, and a communications network, guarantee a safe, reliable, and comfortable ride.
The U.S. is moving forward with urban transit projects along its Northeast Corridor that are scheduled to replace existing rail cars and increase transportation capacity. Kawasaki will continue to enhance our technical expertise and provide highly reliable rail cars to serve the riding public around the world.
WMATA 7000 Series Specifications
| | |
| --- | --- |
| Car Type | Heavy Rail Married Pair Consist (Min: 2 cars in yards, 4 cars on main lines / Max: 8 cars) |
| Dimensions | 23.0m (L) x 3.1m (W) x 3.3m (H) |
| Carbody Material | Stainless Steel |
Contact