Kawasaki Launches duAro Dual-Armed SCARA Robot for Short-Life-Cycle Production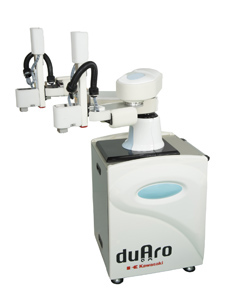 Tokyo, June 3, 2015 — Kawasaki Heavy Industries, Ltd. announced today that it has launched the duAro, a revolutionary dual-armed SCARA robot meant to work alongside humans.
Until now, industrial robots have been primarily adopted for mass production of products with long life cycles. Meanwhile, in fields such as electric and electronic technology, which have short product life cycles and replace models every few months, it has been thought that automation is difficult to achieve for reasons of preparation time and cost performance. Today, Kawasaki offers a robot practical for such fields.
The new duAro is a robot with a new, dual-armed structure that can fill needs for two-handed human labor with straightforward reproduction of the independent movement of two arms. Ease of use has been a cornerstone of its development. It uses the simple horizontal movement of a SCARA and makes it dual-armed. It also features easy direct teaching, making the robot highly practical. Also, the robot body and controller are structured as a package on a wheeled base. This makes it easy to install and to relocate.
The robot can easily fit in the space of a human and perform the work a human would with two arms. The body has two arms which extend horizontally from its trunk and move in sync. Also, it has collision detection and the ability to move slower near humans for safety. Thus, it can be installed right beside workers to work with them without worry.
The name duAro combines the words dual and robot. It is meant to sound like a friendly nickname for a dual-armed robot that is safe and reliable.
Features
1) Saves space
If two conventional SCARA robots were installed next to each other, they would take up a large space. However, the duAro comes with two coaxial arms packaged with a single controller, so that it fits in the space of a human. In addition, because both arms are coaxial, they do not easily interfere with each other. This enables coordinated operation that is not possible with two conventional SCARA robots.
2) Ease of introduction
The wheeled base on which the arms are installed houses the controller, so the robot can be installed easily just by rolling the wheeled base. Because the robot uses two arms, jigs are not required and both robots and humans can be replaced easily. This makes it possible to respond promptly in an emergency, such as if a robot stops, and to start up quickly systems for which line changes used to take time.
3) Coexistent operations with people
Fully equipped with comprehensive safety features, the duAro is ready to work with humans. It has a low-output motor and can reduce its speed based on area monitoring. In the unlikely event that it does collide with a human, it uses collision detection to stop instantly.
4) Ease in teaching operation
Previously, a major obstacle to the adoption of robots for products with short life cycles was the frequent need to change programs and teaching. Now, the simple horizontal articulated structure and direct teaching functions of the duAro make robot teaching easy for everyone.
5) Various options
In addition to direct teaching, a tablet or teach pendant can also be used to teach the duAro. A single device can work with multiple units. A vision system can also be incorporated. There are also standard hand options. The robot can be customized with the ideal arm structure for the job, such as by changing the arm length or adding a rotation axis. Kawasaki plans in the future to introduce clean room and single-arm specifications and broaden the applications of the duAro.
Specifications
| | |
| --- | --- |
| Series name | duAro |
| Product name | duAro 1 |
| Model name | WD002N |
| Retail price in Japan* | JPY 2.8 million |
| Arm type | Horizontal articulated |
| Degrees of freedom (axes) | 4 axes × 2 (Max. 6 axes × 2) |
| Standard reach | 760 mm |
| Max. payload | 2 kg/arm |
| Repeatability | ± 0.05 mm |
* Manufacturer suggested retail price (not including options)
View the product page for more information

Click here to Robotics Homepage in English

Contact