First 7000 series train for WMATA released for revenue service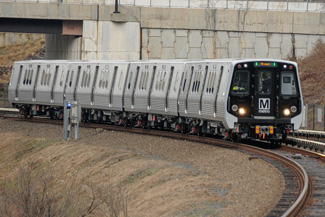 Tokyo, April 14, 2015 — Kawasaki Heavy Industries, Ltd. announced today that Kawasaki Rail Car, Inc. (KRC), its U.S. subsidiary based in Yonkers, New York, has received conditional acceptance for revenue service of the first eight 7000 series cars for Washington Metropolitan Area Transit Authority (WMATA). Kawasaki is the first Japanese manufacturer to provide railcars to Washington D.C.
This train is the first eight cars of the initial base contract order (64 cars) awarded in 2010. It was manufactured at Kawasaki's Lincoln plant in Nebraska, followed by series of "on-site" tests performed on WMATA property for approximately one year. The train will enter passenger service on April 14.
The 7000 series cars are introduced as part of WMATA's customer service enhancement, providing services for Dulles International Airport extension and replacing some of the oldest rail cars in the existing fleet, easing congestion. As the first stainless steel cars ever to be used by WMATA, the 7000 series also increases passenger capacity in comparison with the existing fleets by eliminating one operator compartment in every two cars. In addition state-of-the-art systems are also introduced including monitors for displaying digital content, CCTV cameras and a communications network.
To date, Kawasaki has received additional order of 464 cars totaling the contract to 528 cars, and the delivery is scheduled to be completed in 2017.
As part of the economic stimulus measures by President Obama, the United States is actively considering capital investments in transportation and infrastructure to reinforce transportation capacity for metropolitan transportation in the Northeastern Corridor, as well as intercity transits including Amtrak.
Kawasaki will continue to enhance its credibility with its technological expertise by providing environmentally friendly modes of transportation to the United States and markets around the world.
WMATA 7000 Series Specifications
Car Type:
Heavy Rail Married Pair Consist
(Min: 2 cars in yards, 4 cars on main lines / Max: 8 cars)
Dimensions:
23m (L) × 3.1m (W) × 3.3m (H)
Carbody Material:
Stainless Steel