Kawasaki to Manufacture New Transit Cars for Rokko Island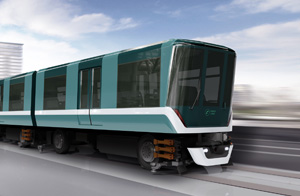 Tokyo, March 27, 2015 — Kawasaki Heavy Industries, Ltd. announced today that it has been awarded a contract to supply 44 new automated guided transit cars for the Rokko Island Line, operated by Kobe New Transit. These cars will be manufactured at Kawasaki's Hyogo Works and delivered between fiscal years 2017 and 2023.
The new cars will replace the Type 1000 cars delivered by Kawasaki between 1989 and 1997, and will feature reduced energy consumption, high sustainability, and excellent passenger amenity. The seating arrangements combine transverse and longitudinal seats of a molded type, which allows passengers to take an appropriate seating position. The cars will be equipped with a liquid crystal display passenger information system, security cameras for crime prevention and other state-of-the-art systems.
The exterior is designed to match the scenery of the Rokko Island and the area around Sumiyoshi River. The side exterior view of the cars is intended to conjure the image of a ship, befitting Kobe's image as a port city.
Kawasaki will continue to leverage its superior technology and reliability to provide rolling stock as an environmentally friendly means of transportation to railway operators and passengers around the world.
* The design, color and other details are subject to change.
Contact