Production of Kawasaki Side Thrusters Reached 5,000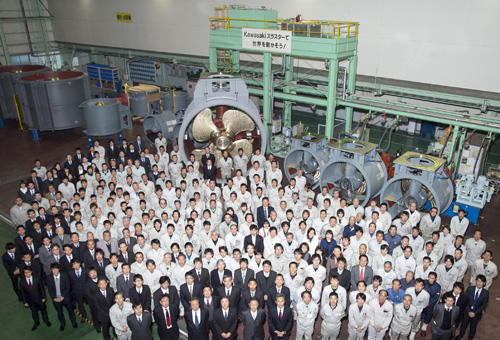 Tokyo, March 5, 2015 — Kawasaki Heavy Industries, Ltd. announced today that its cumulative production of Kawasaki side thrusters has reached 5,000 units.
A side thruster is a propulsion device mounted to a ship's bow or installed in a tunnel built into the ship's bow. It enables a vessel to turn or move sideways and is used for heading control and dynamic positioning with outstanding maneuverability. Side Thrusters are widely used, for example, on container ships and ferries, mainly for control when berthing and leaving pier. Many are also used for sophisticated control in marine surveys and operation, such as on survey ships and offshore work ships.
In 1967, Kawasaki began production of side thrusters using technology introduced by U.K.-based Vickers. After a while, in order to answer the market demand for larger-sized units, Kawasaki started designing and manufacturing its proprietary side thruster in 1971. Kawasaki is currently manufacturing the large KT-B5 Series (5 models, 1,800–3,500 kW) and the small-to-medium KT-B3 Series (7 models, 320–1,350 kW). In 2007, 40 years after production began, cumulative production reached 3,000 units. Following that, in October 2008, Kawasaki launched a dedicated side thruster production plant at its Harima Works. Since then, production has continued at a pace of 300 units per year, bringing cumulative production from 3,000 to 5,000 in only seven years.
Furthermore, Kawasaki took part in establishing a joint venture in 1995, Wuhan Kawasaki Marine Machinery Co., Ltd., in Wuhan, China. Wuhan Kawasaki manufactures and sells side thrusters for the Chinese market. With the group as a whole including Kawasaki's production and sales in Japan, the Kawasaki Group has claimed the top share in the world among new vessels.
Global marine transport continues to expand, along with the economic progress of emerging countries. It is expected that demand for side thrusters will also continue to grow. Kawasaki is focusing on manufacturing Kawasaki side thrusters of superior reliability in an economical manner to continue to answer the diverse needs of customers.
Overview of the Kawasaki side thruster, the 5,000th unit cumulatively produced
Installed on: Large container ships (built at overseas shipyards)
Model: KT-255B5
Driving power: 2,500 kW
Propeller diameter: 2.85 m
Contact