Internal Circulating Fluidized Bed Boiler Ordered for South Korea
Tokyo, January 22, 2015 — Kawasaki Heavy Industries, Ltd. announced today that it has received an order for an internal Circulation fluidized bed boiler (ICFB) from Samchully ES Co., Ltd., a South Korean engineering firm based in Seoul. The boiler, which burns biomass fuel (wood chip fuel and waste wood) and refuse paper and plastic fuel (RPF) for power generation, will be used by Jeonju Paper Corporation, a leading paper manufacturing company in South Korea. The boiler will be manufactured at Kawasaki's Harima Works and shipped in the spring of 2016.
The new boiler will supply 131 tons of high-temperature, high-pressure steam per hour, the largest capacity in its class ever manufactured by Kawasaki. Jeonju Paper plans to combine the ICFB with an existing steam turbine generator when it upgrades the power generation system installed at its Jeonju Plant. The new system is scheduled to become operational in 2017. The electricity it generates will be sold to a power supplier.
Kawasaki's ICFB can burn solid fuel made from refuse and waste plastic, including corrosive materials and environmental pollutants, as well as various waste materials and sludge. This boiler features combustion and heat recovering cells that are divided into separate partitions. This internal structure allows the fuel and bed materials to circulate from the combustion cell to the heat recovering cells by varying the velocity of airflow. This design contributes controlling temperature of the fluidized bed and protects the heat exchanger tubes from corrosion caused by chlorine and other gases, thus enabling high efficient and reliable plant operation.
The latest order was awarded based on the recognition of Kawasaki's proven track record and the superior technology of the two ICFBs delivered in Japan, and one abroad.
South Korean government has implemented the Renewables Portfolio Standard (RPS) in 2012 with the aim of promoting the development and use of new renewable energies, including biomass and waste materials. Under the system, power suppliers that sell electricity beyond a certain amount are mandated to supply new renewable energies corresponding to a fixed percentage of the total electricity they generate. Demand for boilers with highly efficient and reliable operation that can burn biomass and waste materials is thus expected to grow in South Korea.
With demand for energy growing around the globe, waste power generation is attracting considerable attention, and orders for similar types of boiler are expected to increase further. Kawasaki will continue to promote the sale of ICFBs for both the domestic and global market.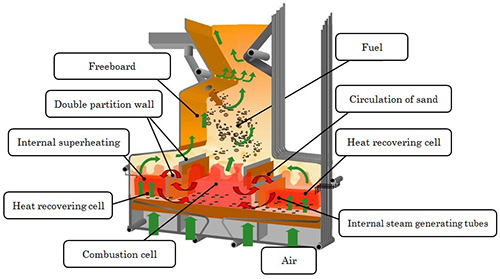 Contact