Fairing for H-IIA Launch Vehicle Delivered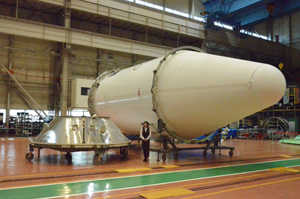 July 14, 2014 — Kawasaki Heavy Industries, Ltd. announced today that it has shipped a payload fairing (PLF)*1 for the H-IIA launch vehicle to the Japan Aerospace Exploration Agency's (JAXA) Tanegashima Space Center (TNSC). The PLF was shipped from the Harima Works, where it was assembled following design and manufacturing at the Gifu Works. At TNSC, the PLF will be incorporated into the launch vehicle by Mitsubishi Heavy Industries, Ltd. in preparation for the upcoming launch scheduled to take place before the end of fiscal 2014.
The four-meter single-payload fairing (4S model) is scheduled to carry the Geostationary Meteorological Satellite Himawari-8*2, which will replace the currently operational Himawari-7.
Since delivering the first PLF for the H-II launch vehicle in 1993, Kawasaki has supplied PLFs for a total of seven H-II launch vehicles. Kawasaki has also developed and manufactured a variety of PLFs for a total of 24 H-IIA launch vehicles, including four-meter single (4S), four-meter dual (4/4D), and five-meter single (5S) fairings. Kawasaki's track record also includes four PLFs for the H-IIB launch vehicle used to carry the H-II Transfer Vehicle, a cargo transporter designed to deliver supplies to the International Space Station, as well as the PLF for JAXA's solid-fuel Epsilon Launch Vehicle launched in 2013.
The PLFs for the H-IIA launch vehicle are designed to meet a broad range of payload specifications such as the launch of large satellites as well as the simultaneous launch of two satellites. Kawasaki is playing a vital role in today's satellite launch industry via the development and production of cutting-edge PLFs.
Overview of PLF for the H-IIA Launch Vehicle
Type:
4 m single fairing (4S type)
Length:
12 m
Diameter:
Approximately 4.1 m
Payload:
1 satellite of up to approximately 10.2 m in length, 3.7 m in diameter
*1

A payload fairing is an enclosure installed at the tip of a launch vehicle that protects the satellite from aerodynamic heating, acoustic noise and vibration during liftoff. After the launch vehicle leaves the earth's atmosphere, the fairing splits in two and is jettisoned, allowing the satellite to separate from the launch vehicle.

*2

Himawari-8 is a Geostationary Meteorological Satellite (GMS) equipped with a visible and infrared radiometer called Advanced Himawari Imager (AHI). Himawari-8 is scheduled to start operation ahead of other next-generation GMSs developed in the United States and Europe.
Contact