Waste Treatment and Biogas Generation Complex Delivered to Hofu City
Tokyo, March 28, 2014 ― Kawasaki Heavy Industries, Ltd. announced today that it has delivered a state-of-the-art waste treatment and biogas generation complex to the city of Hofu in Yamaguchi Prefecture.
Planned by the city to accelerate efforts to build a recycling-oriented society, the design-build-operate (DBO) project which includes the construction and operation of the complex was awarded to Kawasaki. With the construction part of the project now complete, Kawasaki will operate the complex for the next 20 years starting in April this year.
The facility is a state-of-the-art waste treatment complex combining sorting, biogas generation, waste incineration, and recycling facilities.
The sorting facility separates out kitchen waste* and other organic waste, which are then mixed with sewage sludge and human waste before undergoing a dry thermophilic methane fermentation process in the biogas generation facility. The methane gas generated is used to superheat the steam that is collected when burnable refuse and methane fermentation residue are burned in the incineration facility for highly efficient power generation. Delivering a maximum power generation capacity of 3,600 kW, the facility boasts an electrical efficiency of 23.5% at normal waste treatment operation for superior environmental and energy-saving performance. Since the generated electricity is used to run the complex and the surplus sold to the local power grid, it all adds up to reduced maintenance costs and fewer greenhouse gas emissions.
The recycling facility collects recyclable materials from oversized, non-burnable, and recyclable waste while ash from the refuse incinerator is used along with fly ash in cement production.
The facility will be run by Green Park Hofu Co., Ltd., a special purpose company affiliated with Kawasaki. For the next 20 years, the company will work closely with the community to ensure the facility's stable operation and support Hofu's municipal waste treatment operations.
Kawasaki will continue to develop and market new technologies for the effective use of biomass, wind, solar and other renewable energy sources as well as waste treatment technologies, like the waste treatment complex it recently delivered to the city of Hofu, with an eye to paving the way to a recycling-oriented society.
*

Kitchen waste includes food scraps and leftovers from households and business establishments.
Flow diagram for the Hofu Municipal Clean Center's biogas generation and waste incineration facilities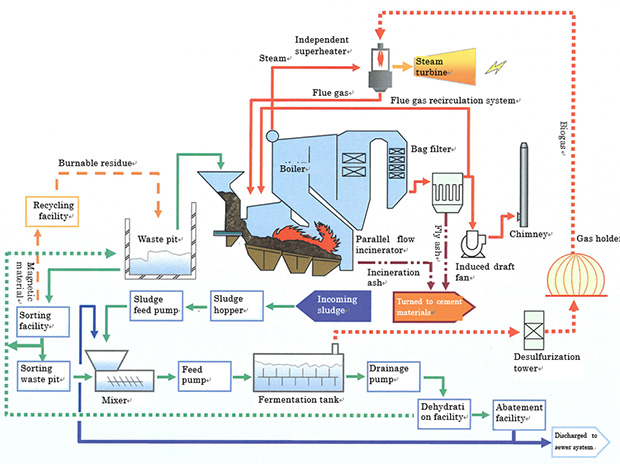 Contact