Kawasaki Heavy Industries Obtains AiP for Liquefied Hydrogen Carrier Cargo Containment System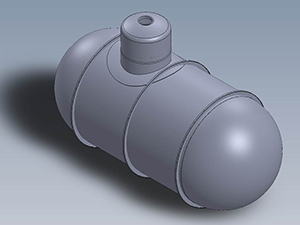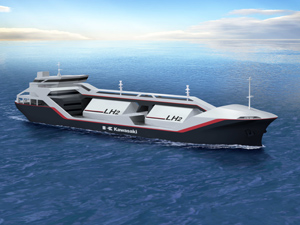 Tokyo, February 6, 2014—Kawasaki Heavy Industries, Ltd. announced today that it has obtained approval in principle (AiP) from the Nippon Kaiji Kyokai, one of the major Classification Societies in the world also known as ClassNK, for its new cargo containment system (CCS) for ships that carry liquefied hydrogen in bulk.
The approval comes after an exhaustive examination, which sought to clarify that the novel concept design of a CCS satisfied the existing IGC Code*1 and class regulations, and a stringent risk assessment performed based on hazard identification study & analysis (HAZID)*2 methods.
The CCS, which is equipped with a pressure build-up (accumulation) system, has a capacity to store 1,250m3 of cryogenic liquefied hydrogen. It was developed using Kawasaki's proprietary design and construction technologies, which are tailor-made for onboard and onshore storage and transportation of liquefied hydrogen and LNG. Because hydrogen vaporizes more readily than LNG, the new system uses vacuum insulation*3, which is better suited for liquefied hydrogen's characteristics.
The CCS offers a wide range of benefits, including:
Horizontal cylindrical pressure vessels which freely enable thermal shrinkage by liquid hydrogen carriage independent of the ship's hull structure, adopted as a suitable cargo tank type of the new CCS for transporting cryogenic liquefied hydrogen.
A pressure build-up system that locks boil-off gas (BOG), which is caused by heat penetration from outside, into the pressure-resistant structure of the cargo tank, thus preventing the release of BOG.
Use of a pressure build-up system that enables liquefied hydrogen to be unloaded not only through the pump built into the CCS but also through pressure discharging.
CCSs with a double-hull structure using a vacuum insulation system developed to minimize evaporation of liquefied hydrogen during transportation.
Cargo tank supports made from a newly developed glass-fiber reinforced plastic structure that offers adequate strength and minimizes heat penetration to further improve thermal insulation.
Access to cargo tanks through the domes with manholes built into the double-hull structure of the tanks, thus enabling the CCS to be regularly opened for inspection when docked.
Japanese demand for hydrogen is expected to jump in the near future as more fuel-cell-powered vehicles reach the market and alternative energy policies are stepped up. Kawasaki is preparing for the expansion of the hydrogen market by launching pioneer liquefied hydrogen carriers (LHC) to take up the slack in the transport of the gas to Japan from overseas.
Under the approved-in-principle concept design of a CCS, two tanks designed exclusively for containing liquefied hydrogen will be installed on LHCs, resulting in a total carrying capacity of 2,500m3. The LHCs will provide cargo holds with double-hulls on the sides and bottom to offer increased integrity in the event of grounding or collision, as well as sturdy hold covers that protect the CCS from exposure to outside air. Moreover, the use of a pressure build-up system eliminates the need for BOG treatment during transportation. Thus, while the LHCs will be powered by diesel engines in the initial stage, Kawasaki is looking to a future where boil-off hydrogen gas is used on board the ships. To that end, Kawasaki plans to provide the vessels with test facilities for technologies such as fuel cell batteries and hydrogen-driven turbines for marine use.
*1

The International Code for the Construction and Equipment of Ships Carrying Liquefied Gases in Bulk is a set of international regulations governing the constructions and equipment of such ships. All ships that carry liquefied gases and that were built in or after 1986 are forced to adhere to the code, and the Nippon Kaiji Kyokai incorporates the code as part of its Rules and Guidance for the Survey and Construction of Steel Ships.

*2

Hazard Identification Study & Analysis is a method of assessing risk. It is determined by experts based on the frequency with which potential hazards in a system arise, and aimed at identifying ways to minimize that frequency.

*3

Vacuum insulation involves a double-hull-structured vessel, the space between which is made a vacuum in order to insulate against heat conduction and convection. Combining multi-layer insulation and vacuum insulation prevents heat radiation, conduction and convection, thus improving the system's insulation performance. One of the most common applications of this technology is the thermos.
Contact