KCM Launches Two New Wheel Loader Models Compliant with EPA Tier 4 Interim (EURO Stage IIIB) in Japan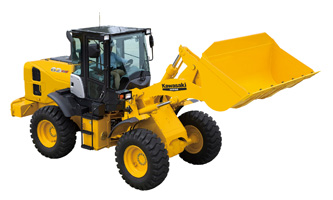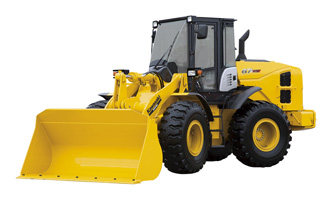 Tokyo, January 27, 2014 — KCM Corporation, a Kawasaki group company, announced today that on February 1 it will launch new wheel loader models, the 62Z7 (bucket capacity: 2.3 m3, operating weight: 10.3 t) and 67Z7 (bucket capacity: 2.5 m3, operating weight: 11.5 t), which meet EPA Tier 4 Interim (EURO Stage IIIB) in Japan targeting non-road special motor vehicles*1. 
The latest addition to the Z7 series, the new 62Z7 and 67Z7 were developed by combining the expertise of KCM and Hitachi Construction Machinery Co., Ltd. While preserving the merits of existing models, the two companies re-examined all aspects required of a wheel loader — safety, cost performance, operational performance, exterior design and operator comfort — to ensure the users' needs were fully met.
The 62Z7 and 67Z7 have significantly reduced air-polluting NOx and PM exhaust emissions compared to existing KCM models, in order to meet EPA Tier 4 Interim (EURO Stage IIIB) for non-road special motor vehicles established by the Ministry of Land, Infrastructure, Transport and Tourism. The new models have also reduced fuel consumption by approximately 5 to 10% while realizing greater operational performance than the existing models.
*1

New diesel engine emission regulations targeting non-road special motor vehicles (nearly all construction, agricultural and industrial machinery).
The features and main specifications of the 62Z7 and 67Z7 are outlined below.
Key Features
Compliant with EPA Tier 4 Interim (EURO Stage IIIB) for Non-road Special Motor Vehicles
The engine comes loaded with new features such as a muffler filter, an exhaust gas recirculation (EGR) system, and a variable geometry turbocharger (VGT), which combine to achieve a significant reduction of NOx and PM emissions.
Reduced Fuel Consumption
The new models feature the Active HST Control System, which uses sensors to instantly assess the engine movement and optimize the engine speed as well as the operation of the HST pump motor. This helps reduce hydraulic energy losses during operation, and cut fuel consumption by approximately 5 to 10% compared to existing KCM models.
Improved Operating Performance, Safety and Ride Comfort
The newly adopted HST motor pump is capable of adjusting traction and vehicle speed at any engine speed. This has dramatically improved the performance and efficiency in applications ranging from digging to hauling and loading.
An inclined ladder was adopted for safer access to the cab, along with improvements in the cab door and handrail.
With a cab that is more spacious and airtight, the new wheel loader promises greater ride comfort.
Greater Maintainability
The broad opening and optimum structure of the engine room, equipped with gull-wing doors, provide easy access for improved maintainability.
Exterior Design that Aspires to Functional Beauty
The exterior employs a dynamic design that makes liberal use of three dimensional curvilinear surfaces, while securing a clear field of vision for the operator.
New Maintenance Package
The new-vehicle warranty program for the newly launched Z7 series applies. The following items have been added to the existing coverage.

The warranty period for the power train (main components including the engine, transmission and hydraulic equipment) will be extended to either three years or 5,000 hours of service, whichever is reached earlier.*2
Free maintenance services
Free replacement of engine oil and engine oil filters is offered every 500 hours up to four times. The first cleaning of the Muffler Filter is provided free of charge after 4,500 hours of operation.
*2

A paid maintenance service agreement is required to receive warranty coverage after 12 months.
Specifications
Model
62Z7
67Z7
Bucket capacity (m3)
2.3
2.5
Engine displacement (L)
5.193
5.193
Rated output/rated speed
(kW/min-1)
113/2,200
113/2,200
Maximum speed
Forward/reverse (km/h)
35/35
39/39
Overall length (mm)
7,265
7,365
Overall width
Outside tire (mm)
2,370
2,465
Outside bucket (mm)
2,480
2,560
Overall height (mm)
3,190
3,265
Dumping clearance (mm)
2,720
2,810
Dumping reach (mm)
1,020
1,050
Operating weight (kg)
10,330
11,470
Contact