New Subway Cars Delivered to NYCT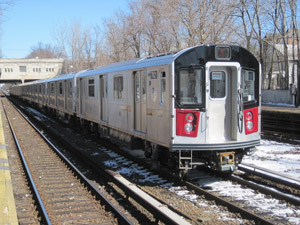 Tokyo, January 23, 2014 — Kawasaki Heavy Industries, Ltd. announced today that Kawasaki Rail Car, Inc. (KRC), its U.S. subsidiary based in Yonkers, New York, has delivered and received conditional acceptance for revenue service of the base order cars for the MTA New York City Transit (NYCT*1), which include the first train of the new R188 subway cars.
The latest delivery is for the base order of 3 trains (11 cars per train), including 23 new cars and conversion of 10 existing R142A cars ordered in May 2010. The Contract also includes the option for 103 new cars and 370 conversion cars ordered in December 2011. The cars are scheduled to be delivered through the middle of FY2016.
The R188 subway cars are based on the R142A cars, of which a total of 600 cars were delivered between 2001 and 2005. The R188 cars adopt the Communication-Based Train Control (CBTC*2) system for improved operational efficiency, reliability and safety. Manufacturing of the new carbody structure and equipment installation are being conducted at the Lincoln Plant in Nebraska, and final assembly and function testing are being performed at the Yonkers Plant in New York. Conversion of the existing R142A cars is all being handled at the Yonkers Plant.
To date, Kawasaki has delivered over 2,000 cars to the NYCT since it received its first order for 325 R62 subway cars in 1982. Kawasaki is the biggest supplier of subway cars to the NYCT, which is the largest railway operator in the United States.
As part of the economic stimulus measures by President Obama, the United States is actively considering capital investments in transportation and infrastructure to reinforce transportation capacity for metropolitan transportation in the Northeastern Corridor, as well as intercity transits including Amtrak.
Kawasaki will continue to enhance its credibility with its technological expertise by providing environmentally friendly modes of transportation to the United States and markets around the world.
Overview of the R188
Classification: Subway Car (operated as an 11-car train)
Dimensions: 15.6m (length) x 3.1m (width) x 2.5m (height)
Construction: Stainless Steel
*1

NYCT is a railway agency of the Metropolitan Transportation Authority (MTA). Other railway agencies of the MTA besides NYCT include the Long Island Rail Road and Metro-North Commuter Railroad.

*2

Conventional train control systems send control information (mainly speed limits, etc.) to the train using electrical signals sent along the rails, information that is received by the cars and used to control the train (especially its speed). By contrast, a train control system using CBTC sends control information wirelessly to the train. This information is received by the cars and used to control speed.
Contact