Kawasaki to Start Verification Test of ME-GI Propulsion System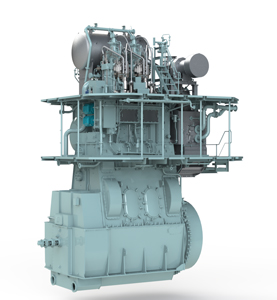 Tokyo, December 16, 2013 — Kawasaki Heavy Industries, Ltd. announced today that it will launch a full-scale demonstration test of a propulsion system powered by an electronically-controlled gas injection marine diesel (ME-GI) engine. The test will be held at Kawasaki's Kobe Works.
Amid rising global need for environmental conservation and soaring fuel prices, there is growing interest in the increasingly affordable LNG in the maritime industry. This trend has helped draw attention to the ME-GI engine — a dual fuel version of the 2-stroke diesel engine, which currently boasts the highest energy efficiency — as the leading candidate for the next-generation marine engine. To quickly respond to such needs, Kawasaki has developed a propulsion system powered by an ME-GI engine, optimized for use on LNG Carriers and other LNG-fueled vessels.
For the verification test, Kawasaki will use a full-scale permanent testing facility comprising a high-pressure gas supply system, LNG tank system and an ME-GI engine. The ME-GI engine has been converted from a 2-stroke diesel test engine, which had been used to test various new technologies in the past. The LNG used for the test will be re-gasified with a vaporizer after being pressurized to approximately 30 MPa with a high-pressure pump. No other shipbuilder and engine manufacturer in the world has ever used this type of permanent testing facility.
The CO2 emissions regulations enforced by the International Maritime Organization (IMO) mandate a phased reduction of CO2 emissions. The ME-GI propulsion system is expected to be up to about 30% more efficient in reducing CO2 than the conventional oil-fired 2-stroke diesel engines.
The engine will be tested under operating conditions simulating operation on an actual vessel. The aim of the test is to verify the functionality and performance of the high-pressure gas supply system, and check the operability and reliability of the engine, as well as its maintainability in long-term operation. In addition, further tests will be conducted combining the ME-GI engine with other green technologies such as water-emulsion fuel*1 and exhaust gas recirculation (EGR)*2. These tests will add to Kawasaki's considerable know-how on ME-GI propulsion systems and help solidify its leading position in the shipbuilding and maritime machinery business field.
Kawasaki will continue to provide highly efficient vessels and engines with smaller environmental footprint, as part of its commitment to working as one for the good of the planet.
Principal particulars of the gas supply system
LNG tank capacity:
30 m3
High-pressure LNG pump:
2 units (piston type)
High-pressure vaporizer:
1 unit
Max. gas supply pressure:
30 MPa
Gas supply temperature:
45C
Principal particulars of the ME-GI test engine
Model:
Kawasaki-MAN B&W 2S50ME-C-GI
Rated output:
3,320 kW
Rated speed:
127 rpm
Cylinder bore:
500 mm
Stroke:
2,000 mm
*1

Water-emulsion fuel is a mixture of fuel with water in small particle form. The water particles capture heat when the fuel is combusted. This reduces the combustion temperature inside the cylinder, thereby decreasing the production of NOx.

*2

EGR is a technology to curb the production of NOx by redirecting part of the exhaust gas with low oxygen content back to the cylinder, thereby achieving low-oxygen combustion and lowering the maximum combustion temperatre.
Configuration of the ME-GI Propulsion System
Contact