LPG Carrier Crystal Sunrise Delivered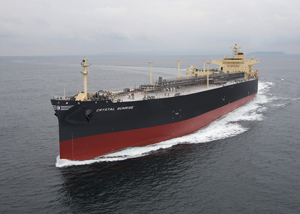 Tokyo, November 18, 2013 — Kawasaki Heavy Industries, Ltd. announced today that it delivered the LPG carrier Crystal Sunrise (Kawasaki hull no. 1709) to Kumiai Navigation (Pte) Ltd. on November 15. This vessel is the first 82,200 m3 SEA-Arrow LPG carrier developed by Kawasaki.
Features
This vessel expanded the cargo section of the conventional 80,000 m3 LPG carrier hull to increase cargo tank capacity to 82,200 m3. Despite the expansion, the propulsion performance has also been improved.
This vessel adopts Kawasaki's uniquely developed bow shape called SEA-Arrow. It significantly improves propulsion performance by minimizing bow wave resistance.
An ultra-long-stroke 2-stroke low-speed diesel engine has been adopted for the main engine. Its superb fuel efficiency is complemented by the Kawasaki rudder bulb system with fins (RBS-F) and the semi-duct system with contra fins (SDS-F), which enhance propeller efficiency.
Four independent cargo tanks are installed in the cargo holds for carrying liquefied petroleum gas. The tanks are designed to provide optimal thermal insulation and absorb low-temperature contraction.
The cargo tanks are made with special cryogenic steel for loading LPG with a minimum temperature of -46°C. The tanks are wrapped in urethane foam for thermal insulation.
The vessel is designed to be fully compliant with the New Panamax requirements.
A ballast water management system ensures the ocean habitat is protected from unwanted environmental effects.
Contact