efWING Rolling Stock Bogie Wins 2013 Good Design Gold Award
Tokyo, November 14, 2013 — Kawasaki's efWING rolling stock bogie has won the 2013 Good Design Gold Award, organized by the Japan Institute of Design Promotion.
The efWING uses carbon-fiber-reinforced plastic (CFRP) for parts of its frame. This CFRP bogie frame also features a suspension function, eliminating the need for coil springs. Kawasaki is the first company in the world to use CFRP — a material typically used in aircraft — in a rolling stock bogie. The use of this lightweight material has dramatically reduced the overall weight of the bogie.
The efWING earned excellent reviews from the awards committee' "We highly regard the ingenuity that gave birth to this high-performance bogie endowed with a functional beauty, which was achieved by combing Japan's advanced new material technology and structural engineering."
Kawasaki wishes to use this recognition to further boost its efforts to market the efWING, while continuing to pursue manufacturing that contributes to a greener planet.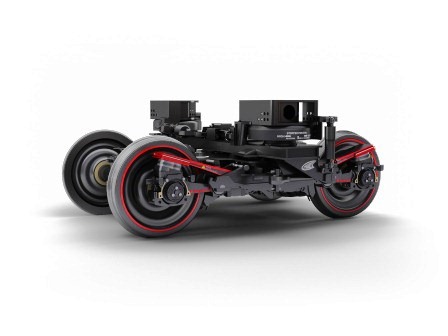 Good Design Award
Founded in 1957, the Good Design Award is Japan's only comprehensive program for the evaluation and promotion of design. For over 55 years, it has been promoted with the aim of advancing the industries and lifestyle of Japan through design, and has given awards to more than 39,000 designs. Today it has earned global recognition, with many companies and organizations participating from around the world. The "G mark," the symbol of the award, is widely recognized as a mark representing excellent design.
Site for the Good Design Award
Contacts