Submarine Kokuryu Launched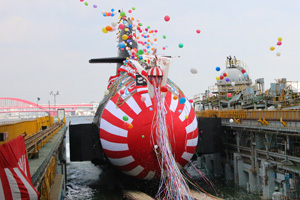 Tokyo, October 31, 2013 — Kawasaki Heavy Industries, Ltd. today held a ceremony marking the launch of the submarine Kokuryu, which was built for the Japan Ministry of Defense (MOD) at its Kobe Works' first dock at 12:35 AM. The ceremony was attended by a delegation of top JDA officials.
The submarine is the 6th Soryu class submarine built by Kawasaki, and the 26th built at this shipyard after World War II.
It provides superior submerged operations and propulsion performance, and uses high tensile steel for its hull. It also has Stirling engines for increased underwater endurance, a variety of automated systems, improved surveillance capabilities using high-performance sonar, increased stealth capabilities and enhanced safety measures.
The submarine's specifications are as follows:
Construction
Started:
January 21, 2011
Launched:
October 31, 2013
Estimated completion:
March, 2015
Specifications
Length:
84.0m
Beam:
9.1m
Depth:
10.3m
Draft (normal):
8.4m
Displacement:
2,900tons
Engines:
Kawasaki 12V 25/25 SB-type diesel engines (2)
Kawasaki Kockums V4-275R Stirling engines (4)
Electric propulsion motor (1)
Propeller:
Single propeller
Speed:
20 knots
Armament:
Underwater launch tubes
Other:
Submarine snorkel
Contact