Domestic LNG Carrier Kakuyumaru Delivered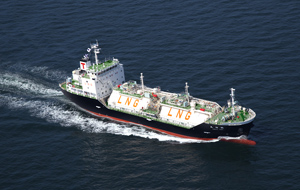 Tokyo, October 31, 2013 — Kawasaki Heavy Industries, Ltd. announced that it has delivered the LNG carrier Kakuyumaru (Kawasaki hull no. 1706) to Tsurumi Sunmarine Co., Ltd. today at its Sakaide Shipyard. This vessel is the fifth 2,500 m3-type domestic LNG carrier to be developed by Kawasaki.
Features
This vessel is a small-type LNG carrier intended mainly for domestic use. It is equipped with two cryogenic pressure tanks developed with Kawasaki's proven technology.
The tanks are designed to provide optimal thermal insulation, as well as absorb low-temperature contraction for holding LNG, which is liquefied at -163°C. The cylindrical-shaped tanks are arranged horizontally in cargo holds, detached from the hull.
The tanks are also designed to withstand pressure so that boil-off gas (BOG) generated from the LNG due to external heat can be contained.
The cargo tanks are protected against collisions and grounding accidents by a double-hull structure. As with larger LNG Carriers, the tanks also feature external covers for added protection and insulation.
This vessel is powered by a diesel engine since it does not require BOG treatment as in conventional large-scale LNG Carriers.
Contact