KCM Launches New Wheel Loader Model 70Z7 Compliant with EPA Tier 4 Interim (EURO Stage IIIB) in Japan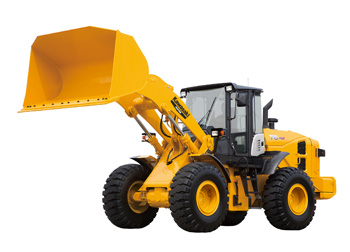 Tokyo, September 30, 2013 — KCM Corporation, a Kawasaki group company, announced today that on October 1 it will launch a new wheel loader model, the 70Z7 (bucket capacity: 3.0 m3, operating weight: 14.2 t), which meets EPA Tier 4 Interim (EURO Stage IIIB) in Japan targeting non-road special motor vehicles*1. 
The latest addition to the Z7 series, the new 70Z7 was developed by combining the expertise of KCM and Hitachi Construction Machinery Co., Ltd. While preserving the merits of existing models, the two companies re-examined all aspects required of a wheel loader — safety, cost performance, operational performance, exterior design and operator comfort — to ensure the users' needs were fully satisfied.
The 70Z7 significantly reduces air-polluting NOx and PM exhaust emissions to meet the 2011 emission standards for non-road special motor vehicles established by the Ministry of Land, Infrastructure, Transport and Tourism. The new wheel loader also comes equipped with a new hydraulic control system and engine output control mechanism, which reduce fuel consumption by approximately 20% while greatly improving operational performance compared to existing KCM models.
*1

New diesel engine emission regulations targeting non-road special motor vehicles (nearly all construction, agricultural and industrial machinery).
The features and main specifications of the 70Z7 are outlined below.
Key Features
Compliant with EPA Tier 4 Interim (EURO Stage IIIB) for Non-road Special Motor Vehicles
The engine comes loaded with new features such as an oxidation catalyst muffler, exhaust gas recirculation (EGR) system, and variable geometry turbocharger (VGT), which combine to reduce NOx by approximately 10% and PM by approximately 90% compared to existing models.
Reduced Fuel Consumption
A simple and highly operable hydraulic system featuring a variable displacement pump is adopted for improved energy efficiency. Loss of hydraulic energy is minimized by supplying only the necessary amount of fluid during operation.
The vehicle's operating status is tracked using sensors to control the engine speed, thereby minimizing energy use.
The amount of energy required to operate the cooling fan is minimized through optimal arrangement of equipment, use of a high-performance hybrid fan, and control mechanism that optimizes rotation speed according to the vehicle status.
With these new systems and control mechanisms, a fuel saving of approximately 20% is accomplished compared to existing KCM models.
Improved Operating Performance, Safety and Ride Comfort
An integrated system of various new control mechanisms dramatically improves performance and efficiency in the full range of applications from digging to hauling and loading.
An inclined ladder was adopted for safer access to the cab, along with improvements in the cab door and handrail.
With a cab that is more spacious and airtight, the new wheel loader promises greater ride comfort.
Simple Maintainability
The broad opening and optimum structure of the engine room and rear grill provide easy access for improved maintainability.
The 70Z7 comes equipped with an auto-reversing, hydraulically driven cooling fan as standard to reduce cleaning requirements for the radiator.
The exhaust gas aftertreatment device consists only of an oxidation catalyst muffler, with no filters for scavenging particulate matter. Thus no regular cleaning or replacement is required.
Exterior Design that Aspires to Functional Beauty
The exterior employs a dynamic design that makes liberal use of three dimensional curvilinear surfaces, while securing a clear field of vision for the operator.
Maintenance Package
The new-vehicle warranty program for the Z7 series will also be applied to the new 70Z7.
The warranty period for the power train (main components including the engine, transmission and hydraulic equipment) will be extended to either three years or 5,000 hours of service, whichever is reached earlier.*2
Free maintenance services
Free replacement of engine oil and engine oil filters is offered every 500 hours up to four times.
*2

A paid maintenance service agreement is required to receive warranty coverage after twelve months.
Specifications
Model
70Z7
Bucket capacity (m3)
3.0
Engine displacement (L)
6.69
Rated output/rated speed
(kW/min-1)
125/2,200
Maximum speed
Forward/reverse (km/h)
38.5/28.3
Overall length (mm)
7,810
Overall width
Outside tire (mm)
2,610
Outside bucket (mm)
2,690
Overall height (mm)
3,280
Dumping clearance (mm)
2,760
Dumping reach (mm)
1,100
Operating weight (kg)
14,180
Contact