Contract Awarded from Long Island Rail Road and Metro-North Railroad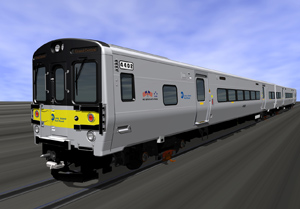 Tokyo, September 19, 2013 — Kawasaki Heavy Industries, Ltd. announced today that Kawasaki Rail Car Inc. (KRC), its U.S. subsidiary based in Yonkers, New York, has received an order for 92 M-9 Passenger Cars via a joint procurement by Long Island Rail Road (LIRR) and Metro-North Railroad (MNR), both affiliated with the Metropolitan Transportation Authority (MTA).
Manufacturing of the carbody structure and equipment installation of the M9 cars will be conducted at the Lincoln Plant in Nebraska, and the final assembly and function testing will be performed at the Yonkers Plant in New York. The cars are scheduled to be delivered to the Railroads from 2017 through 2018.
In addition to the base order of 92 cars, the contract includes options for up to 584 cars that the Railroads may exercise bringing the total number of the cars to 676, with a total contract value of $1.83 billion U.S. dollars. In the event all options are exercised, the M-9 contract would be the largest rail contract ever awarded to Kawasaki, enabling Kawasaki to keep its US production line in operation up until the year 2022.
The new M-9 cars are scheduled to be used for the East Side Access project, a new line that will connect Long Island to the east side of Manhattan. The M-9 cars will also replace the Railroads aging fleets, while introducing new state-of-the-art technologies enhancing passenger services.
To date, Kawasaki has successfully been awarded contracts for more than 4,000 cars from major transit authorities in the United States, including the New York City Transit Authority. Kawasaki has gained credibility through its past project performance, including on-time delivery, high technology, vehicle reliability, commitment to after-sales support as well as high local content rate, which all contributed to the successful award of the M-9 contract.
In addition to the Metro-North's commuter vehicles and subway cars for New York City Transit and Washington Metropolitan Area Transit Authority which are currently under production in Kawasaki's Nebraska plant, the M-9 contract will expand Kawasaki's future business in the United States.
As part of the economic stimulus measures by President Obama, the United States is actively considering capital investments in transportation and infrastructure to reinforce transportation capacity for metropolitan transportation in the Northeastern Corridor, as well as intercity transits including Amtrak.
Kawasaki will continue to enhance its credibility with its technological expertise by providing environmentally friendly modes of transportation to the United States and markets around the world.
Summary of Awarded Vehicles
Car Type:
Commuter rail (2 car units, max. 14 cars connectable)
Measurement(s):
26 m (L) × 3.2 m (W) × 4 m (H)
Carbody Material(s):
Stainless steel
Contact
20130923_1.html,
Tokyo, September 23, 2013 – Kawasaki Heavy Industries, Ltd. ("Kawasaki") announced today that it has been selected for the first time for the Dow Jones Sustainability Asia Pacific Index (DJSI Asia Pacific), the Asia Pacific version of the Dow Jones Sustainability Indexes (DJSI), which is one of the world's premier indices for Sustainability Investing (SI)[*1].
Jointly compiled by S&P Dow Jones Indices and RobecoSAM AG [*2], DJSI is a leading SI index which assesses and selects leading sustainability-driven companies in terms of economic, environmental, and social criteria, and serves as one of the most important indices for investors who take the corporate social responsibility (CSR) initiatives of each company into consideration.
Specifically designed for companies in the developed Asia Pacific markets including Japan, the DJSI Asia Pacific has captured the 152 companies, including 68 Japanese companies, which are leading the way in terms of sustainability among the 600 companies in the region.
For inclusion in the DJSI Asia Pacific, RobecoSAM AG assesses companies based on questionnaire responses, annual reports, other publications, and media information from each company. Kawasaki has been included in the DJSI Asia Pacific for the first time for its outstanding performance based on the three criteria above. In addition to DJSI Asia Pacific, Kawasaki has also been included in the Morningstar Socially Responsible Investment Index (MS-SRI), which are also benchmark SRI indexes.
Kawasaki will remain committed to the fulfillment of its social responsibility as a global entity, with a view towards realizing its Mission of "Kawasaki, working as one for the good of the planet."
[*1]

Sustainability Investing:
Investment decisions based on the integration of Economic, Social, and Governance (ESG) factors to identify hidden risks and opportunities overlooked by traditional financial analysis. The Sustainability Investing approach looks beyond traditional financial data to better manage risk and leads to better informed investment decisions.

[*2]

RobecoSAM AG:
Is an investment specialist focused exclusively on Sustainability Investing. Its offerings comprise asset management, indices, private equity, engagement, impact analysis and sustainability assessments as well as benchmarking services. Together with S&P Dow Jones Indices, RobecoSAM publishes the globally recognized Dow Jones Sustainability Indices (DJSI). In 1995, RobecoSAM was founded on the conviction that integrating ESG factors into traditional financial analysis leads to a more informed investment decision.

Contact