Kawasaki Develops K-GET Waste-heat Recovery System for Marine Diesel Engines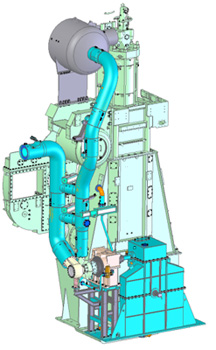 Tokyo, July 18, 2013 — Kawasaki Heavy Industries, Ltd. announced today that it has developed the K-GET (Kawasaki-Green Eco Turbine) waste-heat recovery system, which helps reduce CO2 emissions from marine diesel engines.
Marine vessels that sail international waters are required by the International Maritime Organization (IMO) to reduce CO2 emissions in stages starting in 2013 in order to protect the global environment.
As an effective means of responding to this regulation, Kawasaki has been developing a waste-heat recovery system that utilizes the surplus energy of exhaust gas emitted by marine diesels. Previously, all of this exhaust gas was sent to the turbocharger mounted on the engine, and then used to provide energy for sending fresh air into the engine. Thanks to technological advances in recent years, however, turbochargers have become far more efficient, allowing sufficient air to be sent to the engine without using all the exhaust gas.
The K-GET system developed by Kawasaki uses a portion of the exhaust gas diverted from the turbocharger to drive a power turbine, which generates power that helps rotate the crankshaft. Kawasaki has achieved high efficiency with its proprietary power turbine, and by simplifying the configuration of equipment, impact on engine room layout is kept to a minimum. The energy obtained by recovering waste-heat from the exhaust gas is used directly as part of the thrust power. This helps reduce CO2 emissions and fuel consumption, as well as enabling application for a wide range of vessels, including bulk carriers, oil tankers and other types of ships that do not require much electricity on board during operation. In a test operation conducted at the Kobe Works, a reduction of up to 4% in CO2 emissions and fuel consumption was confirmed.
The system will now be subjected to an in-service test to evaluate its performance and verify durability, in time for the scheduled launch in fiscal 2015.
Kawasaki will continue to develop various technologies to help protect and improve the global environment.
Contact