Five Shield Machines Delivered for Singapore Subway Construction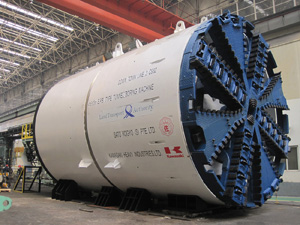 Tokyo, July 1st, 2013 — Kawasaki Heavy Industries, Ltd. announced today that it has completed the delivery of five shield machines to be used in constructing the third stage of Singapore's Downtown MRT Line (DTL3). Three of the shield machines were ordered in August 2011 by Sato Kogyo Co., Ltd.'s local subsidiary in Singapore, Sato Kogyo (S) Pte. Ltd., while the other two were ordered in October 2011 by the Korea-based SK Engineering & Construction.
These earth-pressure balanced shield machines (with a diameter of 6.63 m) will be used to complete DTL3, a 21-km subway line now being constructed by Singapore's Land Transport Authority (LTA). The machines will excavate three sections of DTL3 totaling six kilometers — section C928, which runs from Bedok North to Kaki Bukit Stations, section C930, from Ubi to MacPherson Stations, and section C932, from Mattar to Geylang Bahru Stations. Construction is scheduled to be completed around March 2014.
Combining shield tunneling technology for soft ground with tunnel boring machine (TBM) technology for carving out hard rock and gravel layers, the earth-pressure balanced shield machine can burrow through mixed layers of rock and soil. The shield machines are outfitted with Kawasaki's proprietary cutter replacement system, which allows for installation of cutters that best suit the geological composition, as well as an articulation mechanism that enables them to excavate curved sections.
To date, Kawasaki has amassed an order record of approximately 1,400 shield machines and TBMs from around the world. Among these are a total of 22 orders from Singapore, including 10 shield machines for its Downtown MRT Line and 5 slurry shield machines for high-voltage transmission cable tunnels. This order is a testament to Kawasaki's outstanding technological capability as well as the proven track record and reliability of its shield machines that can excavate any type of soil.
Kawasaki expects to see additional orders for shield machines coming from Singapore as the country moves ahead with plans for more underground construction work including the MRT Thomson Line (total length: 30 km x 2 tracks). Demand is expected to remain steady for the medium- and long-term throughout Asia with subway construction work scheduled in India, Vietnam, the Middle and Near East and elsewhere.
Kawasaki is moving steadily ahead to expand shield machine and TBM sales across the globe.
Contact