3MW Superconducting Motor Developed for the Propulsion System of Offshore and Special-purpose Vessels -World's Highest Performance Achieved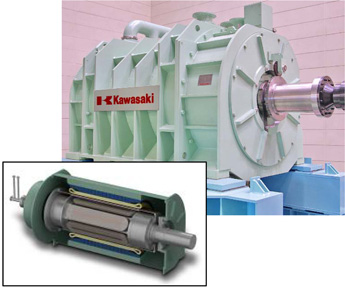 Tokyo, May 29, 2013 — Kawasaki Heavy Industries, Ltd. announced today that it has achieved the world's highest power density*1 with a prototype 3MW superconducting motor.
Kawasaki has been developing a superconducting motor that will help save energy and reduce the size of propulsion systems powering offshore vessels*2 , special-purpose vessels and merchant ships.
Recently, Kawasaki completed a performance test of a prototype motor to be installed on medium-sized vessels with thousands of gross tons. The test, conducted at Kawasaki's Kobe Works, confirmed a rated output of 3MW and the world's highest power density. The use of this superconducting motor will enable a reduction of approximately 20% in the propulsion system's fuel consumption.
1. Latest Achievements
Electrical propulsion systems are increasingly adopted for offshore vessels and special-purpose vessels such as icebreakers, which require high mobility and power. This trend has been accompanied by a growing interest in the use of a superconducting motor, which helps save energy for a more economically efficient operation.
Superconductivity refers to a phenomenon of zero electrical resistance that occurs when a certain material is cooled to an ultralow temperature. As such, it can help increase the efficiency of a variety of devices. It also allows a large current to be passed through a thin wire and, if applied to a coil, a small but powerful magnet can be created.
Kawasaki manufactured a prototype 3MW superconducting motor that is only half the size of conventional motors. The significant reduction in size was achieved by placing a superconducting coil in the rotating part of the motor, and injecting cryogenic gas to cool the coil.
The performance test conducted recently confirmed a rated output of 3MW, surpassing the highest output level in Japan that Kawasaki achieved in fiscal 2010 with its 1MW prototype. The latest prototype boasts the world's highest power density in its class, as well as an outstanding motor efficiency*3 of 98% as intended in the design.
The newly developed superconducting motor will enable such improvements as reduced power consumption and a smaller footprint, allowing greater flexibility of layout and adoption of a hull form that reduces underwater drag. If incorporated into the propulsion system of a typical diesel-powered ship, the overall improvement can amount to some 20% reduction in fuel consumption.
If the superconducting motor is applied to anticipated liquid hydrogen carriers, the boil-off gas generated during transport can be effectively utilized to cool the motor, allowing for a propulsion system with even greater efficiency.
2. Future Plans
After a series of land-based durability tests and validation tests on some vessels, Kawasaki intends to offer the motor for use in propulsion systems for offshore vessels and special-purpose vessels. The combination of the superconducting motor and Kawasaki's expertise in marine industries enables the company to develop advanced marine propulsion systems that are optimized for specific applications, such as carriers of liquid hydrogen, etc. Ultimately, Kawasaki will apply the technology to generators and drive units used in plants and other facilities, to create a group of highly efficient products that will help reduce CO2 emissions.
This development project, funded by a grant from the New Energy and Industrial Technology Development Organization (NEDO), has been pursued in partnership with Sumitomo Electric Industries, Ltd., Tokyo University of Marine Science and Technology, and National Maritime Research Institute since July 2010.
*1

Output per unit volume of a motor

*2

Workboats and transport ships used for oil and gas development and other offshore operations

*3

Ratio of mechanical output energy to electrical energy input
Contact