Large Once-through Boiler with Gas Air Heater Launched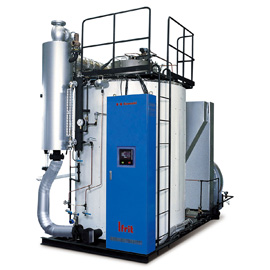 Tokyo, May 28, 2013 — Kawasaki Thermal Engineering Co., Ltd. announced today that it will launch a new line of Ifrit large gas-fired once-through boilers on June 1, 2013. This new addition to the Ifrit family will be the industry's first once-through boiler to come equipped with a gas air heater.
Gas air heaters increase boiler efficiency by recovering exhaust gas heat that used to be wasted and using it to preheat combustion air. The features of the gas air heater are outlined below.
1. Energy saving (further boost of boiler efficiency when feeding water at high temperatures)
A typical once-through boiler is equipped with an economizer that saves energy by preheating feedwater with the potential heat of exhaust gas. With this type of boiler, however, only a limited amount of temperature increase could be achieved at high temperature ranges, causing most of the exhaust gas heat to be wasted without being recovered. Kawasaki's new large once-through boiler comes equipped with a newly designed gas air heater installed behind the economizer to recover a further amount of heat from the exhaust gas used to preheat feedwater. This heat is then used to preheat combustion air to increase boiler efficiency by 2%*1 compared to conventional models without a gas air heater. In terms of fuel costs, this amounts to a saving of about 720,000 yen *2 per year.
2. Installable on existing boilers
Gas air heaters can also be added to existing Ifrit gas-fired boilers*3 without taking up additional installation space.
Kawasaki will continue to leverage its unique expertise to develop more energy-efficient boilers as well as heat source systems that meet the needs of its customers.
*1

Under rated operating conditions

*2

One unit of IF-6000CGE at an average load factor of 40%, 3,000 hours of operation per year, and fuel cost of 100 yen/m3N

*3

Kawasaki IF-C type boiler
Contact